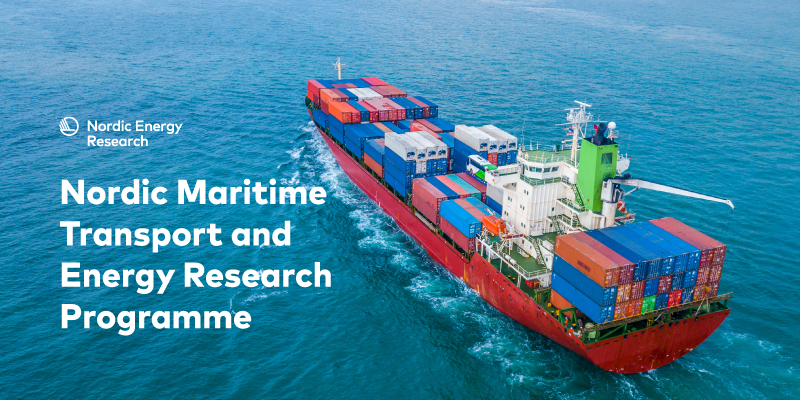 Funds available for low-carbon maritime transport
Nordic Energy Research is announcing a call within the Nordic Maritime Transport and Energy Research Programme (NMTEP). Transport - and especially maritime transport - is considered one of the hardest…
Nordic Energy Research is announcing a call within the Nordic Maritime Transport and Energy Research Programme (NMTEP). Transport – and especially maritime transport – is considered one of the hardest sectors of the economy to decarbonize. In a new study from the International Maritime Organisation greenhouse gas emissions from international shipping are estimated to have increased 5.6 percent between 2012 and 2020.  The study also estimates that methane emissions increased 150 percent during the same period.
The Nordic countries have strong presence in the maritime field both as owner/operators, ship designers/builders and providers of both associated hardware and software as well as fuels, making us well-positioned to tackle this unique challenge.
The Nordic Maritime Transport and Energy Research Programme focuses on topics of common interest for all Nordic countries and on producing knowledge that will complement, rather than duplicate, national R&D programmes.  The intention of this research programme is to create outcomes and impact of greater value for the countries involved than could be achieved through national activities alone.
About the call
The call for proposals within NMTEP covers energy use in maritime operations as well as possible policy frameworks that can aid decarbonisation of the Nordic maritime sector.
Applicants for this call will be required to include at least one industrial/commercial actor that will increase the likelihood of early implementation of new technologies and approaches. The proposed projects should involve industrial actors with the intention of delivering mature solutions with significant impact. Multidisciplinary approaches are encouraged, addressing technical, economical, regulatory and environmental aspects.
Nordic added value of the programme
Projects under NMTEP should create outcomes and impact of greater value for the countries involved than could be achieved through national activities alone. Examples of such added value include building critical mass; networking; sharing data, infrastructure and resources; enhancing scientific excellence; creating societal impacts; and contributing to research-based policymaking.
The programme will promote green growth in the Nordic region based on knowledge, innovation, mobility and digital integration, in line with the Nordic Council of Minister's vision of a green and competitive Nordic region.
The Nordic countries share strong climate and energy commitments and are well placed to assume a leadership position in reducing the carbon footprint of maritime transport. On 25 January 2019, the Prime Ministers of Finland, Iceland, Sweden, Norway and Denmark signed the "Declaration on Nordic Carbon Neutrality" in which they commit themselves to work towards a carbon-neutral Nordic region. One of the tools applied to achieve carbon neutrality is sector-based roadmaps and action plans for key sectors of the economy.  All the Nordic countries – Norway, Sweden,  Denmark, Finland and Iceland – have roadmaps covering the maritime sector.
Call text and application portal