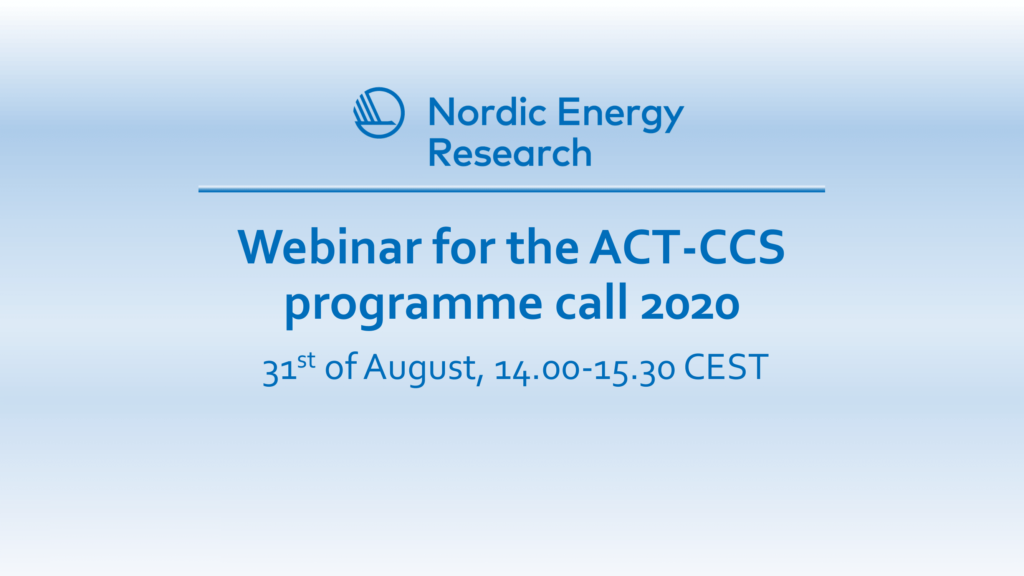 Webinar for the ACT-CCS programme call 2020
This online seminar the 31st of August will help applicants to the ACT-CCS programme call 2020 to learn more about the programme itself and Nordic Energy Research's call. --- About…
This online seminar the 31st of August will help applicants to the ACT-CCS programme call 2020 to learn more about the programme itself and Nordic Energy Research's call.
—
About this event
Together with Accelerating CCS Technologies (ACT) and 11 countries and regions from around the world, Nordic Energy Research has launched a call for CCUS proposals. The ambition of ACT is to facilitate the emergence of CCUS via transnational funding of projects aimed at accelerating and maturing CCUS technology application through targeted innovation and research activities.
In this ACT-CCS programme call, Nordic Energy Research is acting as a funding partner for the Nordic countries and has allocated 3 MNOK for this purpose. Are you interested in applying for our funds and want to know more on how to do it? Join our informative webinar on the 31st of August at 14.00–15.30 CEST.
The registration for this webinar is OPEN now. 
About this call