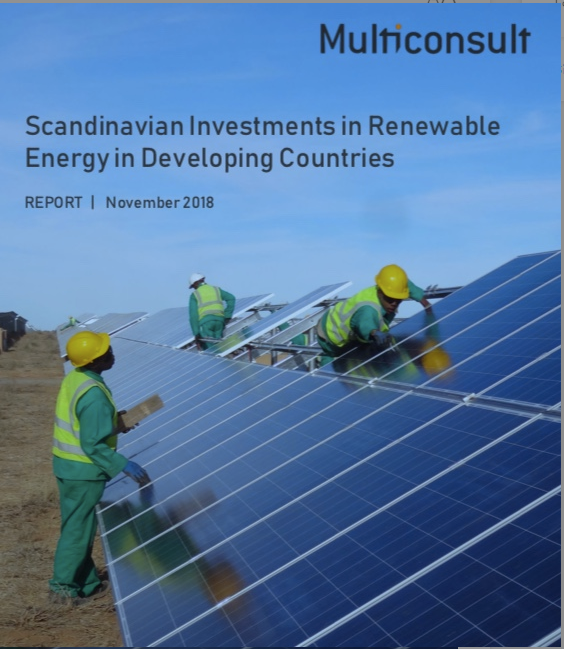 New report: Nordic renewable energy companies ready for developing countries
A new report prepared by Multiconsult; Scandinavian Investments in Renewable Energy in Developing Countries assess Nordic investments in renewable energy (RE) in developing countries, and the available public support mechanisms and…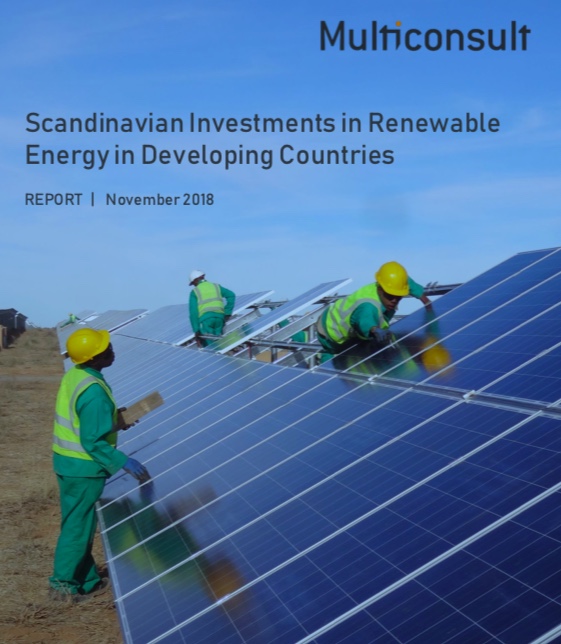 A new report prepared by Multiconsult; Scandinavian Investments in Renewable Energy in Developing Countries assess Nordic investments in renewable energy (RE) in developing countries, and the available public support mechanisms and instruments set up to promote such investments. The report addresses four questions:
What are the key differences between the Nordic countries in terms of commercial investment in RE in developing countries?
What differences are there in public support mechanisms in the from the Nordic countries, and how do they affect investment levels?
What can the Nordic countries learn from each other with regard to promoting investments?
How can emerging RE-clusters grow further?
Norway, Denmark and Sweden all offer relatively comprehensive suites of mechanisms and funding approaches to support international private sector development. Norway is the country among the three that most strongly emphasises renewable energy as a target area. Norway's long history, experience and competence in the area is relevant for partner countries.
Nordic differences
Norway combines a strong commitment to the principle of untied aid with an explicit intention to also facilitate and encourage the application of Norwegian renewable energy experience and competence. Meanwhile, Sweden does not emphasise involvement of Swedish industry. Danish support mechanisms on the other hand explicitly target Danish companies and Danish exports.
Norway has through a combination of public support available to the private sector, and this has likely been one driving forces in the emergence of a Norwegian 'cluster'. Danish-tied support has been actively used by the export industry, but has promoted equipment suppliers and exports rather than encouraging investments.
The Norwegian suite of support mechanisms has been relatively consistent over time. While this ensures predictability for beneficiaries, it seems less innovative than Danish and Swedish support schemes which are more adaptable to changing needs.
The Danish approach to business support emphasises portfolio risk instead of project-specific risk, which allows higher-risk projects to be granted support. Danish pension funds investments in commercial projects in developing countries with a focus on energy, climate and infrastructure have been made possible and strengthened through provision of guarantees.
The report argues that while Sweden has strongly emphasised guarantees, the guarantee mechanism in itself did not have any promotional effect on the investment level of Swedish businesses. 
Comparison from the report: