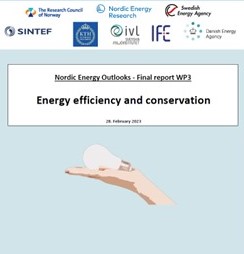 Nordic Energy Outlooks – Final report WP3: Energy efficiency and conservation
The final report from WP3 addresses energy efficiency and conservation in the Nordic area.
The research partners in WP3 are SINTEF, IVL, IFE, KTH, and DEA.
The work carried out in WP3 of Nordic Energy Outlooks consists of many different parts, including several literature reviews, assessments of existing models, improved modelling of energy efficiency measures, model linking between general models and sector-specific models, as well as analyses of the cost-efficiency of energy saving measures in energy system scenarios.