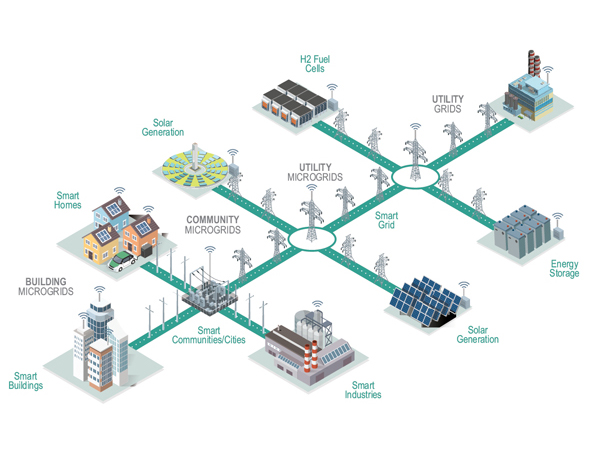 About Next-uGrid
Integration of renewable energy sources with their unpredictable nature, increasing overall consumption and number of electrical vehicles in near future and decentralized power flows are creating new challenges to the…
Integration of renewable energy sources with their unpredictable nature, increasing overall consumption and number of electrical vehicles in near future and decentralized power flows are creating new challenges to the electrical grid management.
This issue cannot be solved only by increased energy efficiency, therefore new tools must be adopted and one of the emerging approaches is to implement Virtual Power Plants, as it integrates latest achievements in the field.
Existing buildings in the city are treated mostly as consumers and currently are inactive players in the energy market, with the new approach of virtual aggregators, it can become an active player by means of allowing to manage or shift relatively non-critical loads (like HVAC systems) at certain hours, thus saving extra money, when energy peak in the grid creates high demand and costs, and even generate extra income paid by the aggregator. Also, several buildings, like in university campuses and districts around it, could be combined in a virtual platform and become a more important market player fostering green technologies.
This is a novel approach and market strategies are just evolving, as the necessary regulations and the country policies would enable this technology to be applied.
Integration of renewable energy and energy storage systems in the building can make them even a small energy producer, creating additional profit, that can decrease its running costs.
Increased application of information and communication technologies for widespread use bring potential risks related to cybersecurity and data manipulation risks that must be addressed adequately and comply with available technology and user friendly functionality.
This is a complex issue and must be investigated properly, therefore project "Guidelines for Next Generation Buildings as Future Scalable Virtual Management of MicroGrids (Next-uGrid)" deals with such technologies and will investigate and analyse existing experience in Finland, Denmark, Latvia, and Estonia to bring this concept closer to the scientific community and general public by real application example Case-Study outcomes. Physical system limits, grid connections and stability, load management scenarios and investment costs are the challenging questions to be answered during this research project.