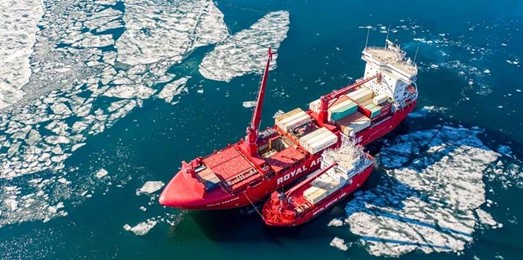 Conference: The green future of maritime operations
The Ministry for Agriculture, Self-Sufficiency, Energy and Environment and Nordic Energy Research invite to a conference focusing on CO2 emissions and the maritime industry
On behalf of the Government of Greenland, the Ministry for Agriculture, Self-Sufficiency, Energy and Environment and Nordic Energy Research invite stakeholders, researchers and other interested to the conference The green future of maritime operations.
The conference takes place from October 4-6 in Nuuk. Please see the programme below.
A successful green transition is heavily depending on the production and use of green fuels within the maritime industry.
The international community is currently focusing on the development of green solutions designed to ensure the green transition of the co2-heavy industries. In Greenland, there is a particular focus on the maritime industry, which accounts for a significant part of the country's total CO2 emission.
To participate in the conference, please register here
Further inquiries
Please contact:
Merethe Lolk Larsen: mlkl@nanoq.gl
Svend Søyland: svend.soyland@nordicenergy.org
Conference Programme
October 4th Excursion to Buskefjord Hydro Power Plant
9:00 – 16:00: Site visit to Buskefjord Hydro Power Plant that supplies electricity to Nuuk
October 5th Conference Day 1: International focus
8:15 – 9:00
8:15 – 8:40: Registration
8:40 – 8:50: Welcome speech by Qupanuk Olsen
8:50 – 9:00: Qullermik ikitsineq by Tukummeq Qaavigaq (Lamp Ceremony)
9:00 -10:00: Session 1 – Greening Maritime Transport in the Arctic
Greenland – a future hub for emission-free maritime fuels? – Minister of Agriculture, Self-Sufficiency, Energy and Environment Kalistat Lund
The Nordic region is taking a maritime green responsibility, CEO Klaus Skytte, Nordic Energy Research
Net Zero Shipping: A UK Perspective – James Gray, UK Member of Parliament, the Commons Environmental Audit Committee
How is the future for the maritime sector? Industry Roadmap for Zero-Emission Shipping – Jakob Haugaard, Danish Maritime Authority, Mission Innovation
10:00 – 10:15: Break
10:15 -12:00: Session 2 – Sustainable Maritime Fuels
Nordic research programmes on sustainable fuels, Svend Søyland, Senior Adviser Nordic Energy Research

Innovation needs for decarbonising maritime transport, Professor Marie Münster, Technical University of Denmark, Sustainable Maritime (DTU)
Nordic Green Ammonia Powered Ships – Julia Hansson, Nordic Maritime Transport Program: Hope
The Green Shipping Programme and Alternative Maritime Fuels – Anne Sophie Sagbakken Ness, DNV
12:00 – 13:00 Lunch
13:00 -13:40: Session 3 – Green Ships – Cases
Emission-free Aquaculture Vessels – Case from the Faroe Islands – Kári M. Mortensen, Umhvørvisstovan

P2X Floater – an efficient technology for monetizing remote resources in sensitive environments – Ove Tideman Rylandsholm, H2Carrier
13:40 – 14:40: Session 4 – Ports for the future – cases
Nordic Roadmap for Maritime Transport, Nathaniel Frithiof, DNV

Greenport North – Hirtshals Havn, Linn Indrestrand, Head of Development Hirtshals Havn
Port of Sortland, Norway, Rune W. Monrad, Port Director
14:40 – 14:55: Break
14:55 – 16:00: Session 4 – Ports of the future
The future of ports in Arctic. Panel Debate
Take-aways from Day 1 – Svend Søyland
End of conference program
16:00 – 22:00: Site visit to Royal Arctic Line and reception
16:00 – 18:30 Site visit at Royal Arctic Line
19:30 – 22:00 Reception at Restaurant Nordlys
October 6th Conference Day 2: Arctic/Greenlandic focus
8:15 – 9:00
8:15 – 9:00: Registration of participants
8:50 – 9:00: Greenland's contribution to a sustainable planet – Minister of Finance and Gender Equality Naaja H. Nathanielsen
9:00 – 9:10: Qilaatersorneq by Varna Mariannne Nielsen and Kuka Fleischer (Drum Dance)
9:10 -10:15: Session 5 – Challenges and opportunities
Nordic Energy Challenge- Presentation on the Nordic Energy Challenge- Video Presentation by Third Place

– Video Presentation by Second Place

– Live Presentation by First Place

– Klaus Skytte, Nordic Energy Research

Take Aways from Day 1 (Summary)
How do we utilize the Greenlandic hydropower potentials? – Rasmus Wendt, Ministry of Agriculture, Self-Sufficiency, Energy and Environment
10:15 – 10:35: Break
10:35 – 12:00: Session 6 – Implementation
Financing green maritime solutions – what are investors looking for?
– Video presentation – Harald Rokke, Nordic Investment Bank
– Live presentation – John Jakobsen, GrønlandsBANKEN
How Nukissiorfiit secures green on-shore power and e-fuel supply? – Pierre Vassard, Nukissiorfiit
Smart Energy Åland – Renewable Energy Projects for Ports – Klas Ljungberg, Flexens
What will it take for Greenland to facilitate green maritime sectors? Panel Debate
12:00 – 13:00: Lunch
13:00 – 15:00: Session 7 – The Roadmap Forward – break-out sessions
Large Maritime Companies/Maritime regional businesses
with multiple employees/Small maritime businesses
Infrastructure
15:00 – 15:15: Break
15:15 – 16:00: Session 7 – The Roadmap Forward
Panel with chairs. Plenum Debate.
Final speech – Minister of Agriculture, Self-Sufficiency, Energy and Environment Kalistat Lund
End of the official program