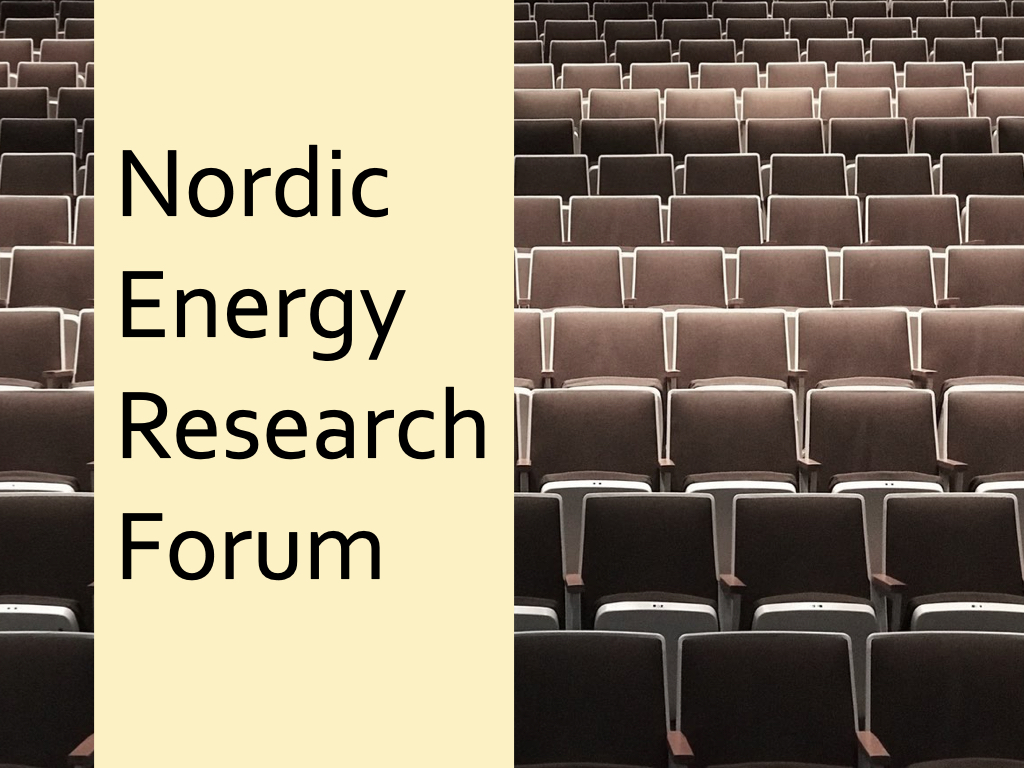 Nordic Energy Research Forum 2021
Nordic Energy Research Forum 2021 took place on the 14th and 21st of September as an online event streamed from Helsinki
Nordic Energy Research Forum 2021 took place on the 14th and 21st of September as an online event streamed from Helsinki. The forum is to showcase state-of-the-art energy research collaboration in the Nordic countries.
The purpose of the Forum is to address challenges and opportunities within energy and energy research cooperation and thereby help to ensure that the Nordic countries remain the world's most sustainable and integrated region (Nordic Council of Ministers' Vision for 2030).
The Forum gathers Nordic stakeholders in the field of energy and climate research, as well as a stakeholders from the energy sector (research, analysis, industry and business). The winners of the Nordic Energy Challenge will also be presented and awarded during the Forum.
Nordic Energy Research Forum 2021 will be streamed from Helsinki through our homepage, Facebook and Youtube.
See the preliminary program below – the program is continuously updated.
---
Day 1 – the 14th of September

10.00 – 10.15: Opening session:
Klaus Skytte – CEO, Nordic Energy Research
Mika Lintilä – Minister of Economic Affairs, Finland
Helena Sarén (Business Finland, Chair of Board of Nordic Energy Research)



10.15 – 11.15: Session 1:
Smart Energy Systems: State-of-the-Art and Future Opportunities
Jussi Matilainen, Fingrid
Anders Granum, Statnett
Robert Eriksson, Svenska Kraftnät
Henrik Thomsen, Energinet
Read more about session 1



13.00 – 14.30: Session 2:
Rise to the Challenge: Sustainable Transport
Maria Fiskerud, Project Manager for Nordic Network for Electric Aviation (NEA)
Lykke Mulvad Jeppesen, Head of Energy Economics, Ørsted
Svend Søyland, Senior Adviser, Nordic Energy Research
Read more about session 2


---
Day 2 – the 21st of September

10.00 – 10.15: Opening session:
Klaus Skytte – CEO, Nordic Energy Research
Helena Sarén (Business Finland, Chair of Board of Nordic Energy Reseach)


10.15 – 11.10: Session 3:
A Carbon Neutral Nordic Energy System
Markus Wråke, CEO, Energiforsk
Uwe Remme, Energy Analyst, International Energy Agency
Read more about session 3



11.20 – 12.15: Session 4:
Sustainable Energy for All
Tanja Winther, Professor, University of Oslo
Julia Kirch Kirkegaard, Researcher, Technical University of Denmark
Anders Tønnesen , CICERO, Center for International Climate Research
Read more about session 4
---