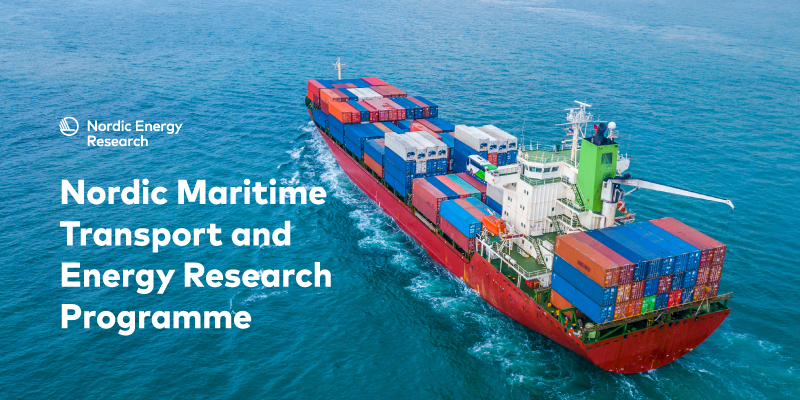 Strong attendance at Webinar on Nordic Maritime Transport and Energy Research Programme Call 2020
On the 14th October 2020, Nordic Energy Research hosted a webinar to inform about the Nordic Maritime Transport and Energy Research Programme. During the event, Svend Søyland, Kevin Johnsen and…
On the 14th October 2020, Nordic Energy Research hosted a webinar to inform about the Nordic Maritime Transport and Energy Research Programme. During the event, Svend Søyland, Kevin Johnsen and Alexandria Gogstad provided answers to prospective applicants. More than 100 persons had signed up and a number of questions were raised and answered.
A full account of all questions NER received ahead of the Webinar and questions that were raised during the Webinar can be found here: NMTEP-QA
The programme is a collaboration between several Nordic research funding institutions and Nordic Energy Research. Partners include; the Swedish Transport Authority, the Danish Energy Agency (EUDP), Business Finland, the Icelandic Innovation Agency (RANNIS), and the Norwegian Research Council. Partners have through a joint effort secured funding for at least three projects of 10 Million Norwegian Kroner each.
"Applicants should read carefully the Call text and also check National regulations for each country (Annex I)", said Kevin Johnsen.
The scope of the call covers technical/natural sciences energy use in maritime operations as well as possible policy frameworks that can aid decarbonisation of the Nordic maritime sector.  Applicants are encouraged to develop multidisciplinary approaches addressing; technical, economical, regulatory, and environmental aspects.
 Alternative fuels and propulsion systems (energy vectors) with low-carbon impact 
Concepts utilizing Hydrogen, ammonia or other fuels based on green or blue hydrogen
Projects utilizing biofuels
Fully battery-electric concepts
Applicants are required to include at least one industrial/commercial actor that will increase the likelihood of early implementation of new technologies and approaches. It should involve industrial actors with the intention of delivering mature solutions (Technology Readiness Level 4-7) with a significant impact.
"In order for a consortium to receive funding from Denmark (EUDP), the project owner has to be a Research Performing Organization registered in Denmark. Being a (Danish) project owner does however not imply that is has to be the party seeking the highest level of financial support", clarifies Svend Søyland.
The application deadline is set for 28th October 2020 with projects starting in mid-February 2021.