Workshop: EU Bioenergy sustainability criteria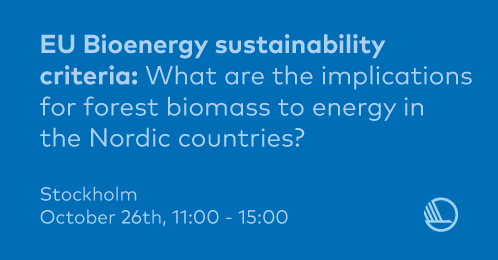 The EU Commission has put forward a proposal for a revised renewable energy directive for the period 2021-2030 (published 30.11.2016). The proposal is currently under negotiation.
In this workshop the results from an ongoing study relating to the new EU directive will be presented and discussed.  The study was initiated by the Nordic Working group for renewable energy, AGFE, and carried out by Pöyry Management Consultancy.
The purpose of the study is to provide analyses of some key components in the proposed EU policy for bioenergy sustainability (RED II). The two key issues in the study are the implications on administrative burdens and the market, respectively.
The workshop will be divided into four main points of discussion:
Why study forest-based bioenergy and policy for sustainability?
The role of forest biomass in the Nordics.
What are the administrative burdens and implication of RED II?
What are the market implications of RED II?
Attendance is by invitation only.
For more information, contact torill.meistad@nordicenergy.org