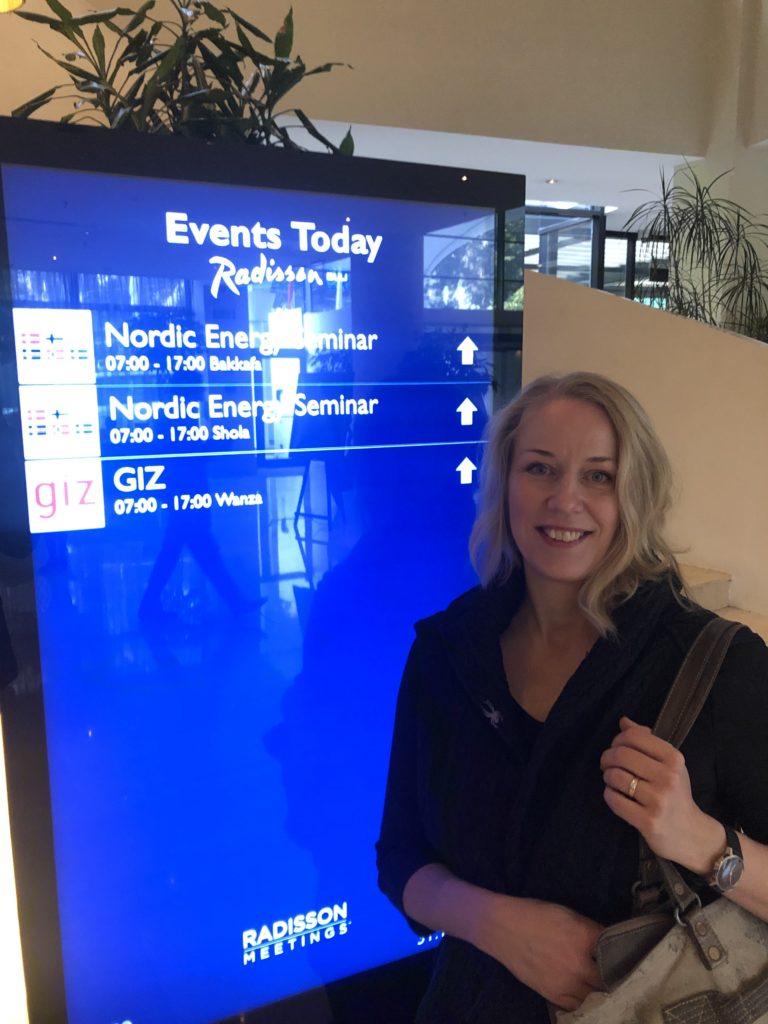 Nordic Energy Solutions for Global Challenges – 31st October 2019 Addis Ababa
Nordic Energy Solutions to Global Challenges - Seminar Report Nordic Energy Research together with all the Nordic Embassies in Addis Ababa organized a Nordic Business seminar in Addis Ababa 31st…
Nordic Energy Solutions to Global Challenges – Seminar Report
Nordic Energy Research together with all the Nordic Embassies in Addis Ababa organized a Nordic Business seminar in Addis Ababa 31st October 2019. The seminar was a continuation of the Nordic Prime Ministers Initiative; Nordic Solutions for Global Challenges focusing on the UN Sustainability Goal of providing Clean and Affordable Energy to All. It followed numerous workshops organized in Ethiopia were Nordic companies and experts share lessons learned on having a joint electricity market and being able to reap the benefit of renewable energy.
Conference Moderator: Jens Skov-Spilling, Head of Energy cooperation, Royal Danish Embassy
Introduction by; H.E. Ms. Unnur Orradóttir Ramette, Ambassador of Iceland, H.E. Ms. Helena Airaksinen, Ambassador of Finland
Keynote speech:  H.E. Ing. Seleshi Bekele, Minister of Water, Irrigation, and Energy of Ethiopia
Challenges and opportunities to meet UN Sustainability Goals in Ethiopia
EEX Nordic Energy Addis Oct 2019: by, Tapio Peltonen, Founder, EEX Global
Session 1:  Panel discussion with presenters about Nordic technologies and knowledge transfer: Ethiopian rapid growth and transition towards middle-income countries require enormous efforts from Ethiopia and her partner countries. Energy, being the enabler of economic growth and increased living standards, will be in a central role in that transition. Growth, reforms like privatization and interconnected energy grids will require a new set of knowledge and experiences. For Nordic companies, Ethiopia represents a huge opportunity. Therefore, in this panel discussion Nordic partners will share their experiences from technology innovations, knowledge transform models, outsourced operation and management and interconnected energy markets for mutual development, growth, and business.
 Session 2: Nordic partnerships in energy sector development: Examples of on-going public and private Nordic activities in the Ethiopian energy sector.
Moderated by: Fanney Frisbæk, Senior Advisor, Nordic Energy Research
Keynote speech: Mr. Stephan Schønemann, Undersecretary of State for Development Policy, Denmark
Panelists:
Jón Örn Jónsson, Country Manager, Reykjavik Geothermal
Accelerating wind power generation in Ethiopia, Nikolaj Svensson, Senior Energy Advisor, Danida
Mark Claessen, Country Manager, Voith
Violet Moronge, Empower
Session 3: Nordic finance instruments and funding schemes for Ethiopia: What Nordic financial instruments and funding schemes exist in Ethiopia for the energy sector and what are the criteria for qualification?
Moderated by: Sahele Tamiru, Norfund
Panelists:
Helena Teppana,  Finnfund
Abubakar Lewano, Senior Investment Manager, Norfund
Mehraz Rafat, Norad
Peter Hallbom, SwedFund
Tina Kollerup Hansen, Investment Director, and Team Lead, Danida Business Finance
Session 4: Nordic Energy Solutions for the society at large: Rapid development might result in social and economic costs both in urban and rural areas. In this session, we will discuss Nordic solutions for climate-friendly energy solutions and reflect these to practices and realities in Ethiopia.
Gaia: Gaia Consulting, Ylva Gilbert
Panelists:
Svend Søyland, Senior Advisor Nordic Energy Research
Belaynesh Birru Aragaw, Director, Environment & Climate Change, MoWIE (TBD)
Wakessa Tesema, Manager, Environmental Protection and Control, Ethiopian Electric Power
Concluding remarks by: H.E. Ms. Merete Lundemo, Ambassador of Norway and H.E: Mr. Torbjörn Pettersson, Ambassador of Sweden.