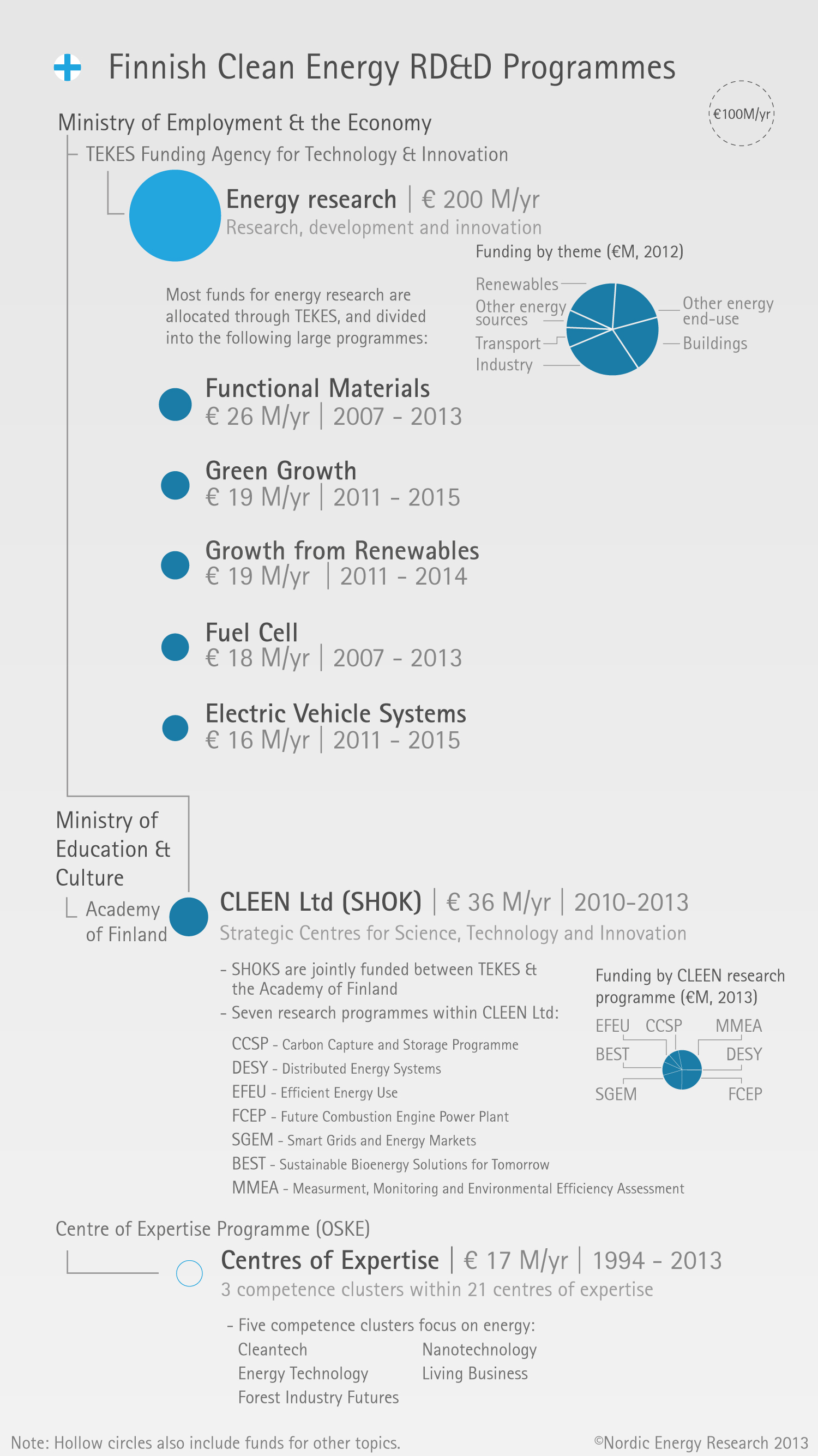 The majority of energy research in Finland is allocated by TEKES, the Funding Agency for Technology & Innovation, with € 200 M annually. Within TEKES, there are many energy programs of comparable size, namely Functional Materials, Green Growth, GROOVE, Fuel Cell and EVE. TEKES also runs the Strategic Centres for Science, Technology & Innovation (SHOK) jointly with the Academy of Finland. In addition, the Academy of Finland has funded extensive research on sustainable energy, and although activities terminated in 2012, a new program is currently being prepared.
SHOK is a new way of coordinating dispersed resources to meet policy targets through industry-led research. There are six strategic centres, where CLEEN Ltd is the centre for energy and environment. As a research cluster, CLEEN Ltd funds seven research programmes within their activities.
The Centre of Expertise Programme (OSKE) is a special government effort that utilises key regional expertise in 21 centres to form 13 competence clusters. Six of the 13 clusters focus on energy, ranging from distributed production to wood chemistry & novel products.
The Finnish funding institutions are mainly located under the Ministries, and research is evenly distributed. Funding regional clusters and centres of expertise is prioritised, in order to transit knowledge effectively. Finland spends a significant share of GDP for RD&D with 3.9 %, the highest of the Nordic countries. Finland is also a world leader in energy RD&D, where 3.2 % of total public funds go towards energy research.
Further information:
– Institutional structure of energy RD&D in Finland
– Public funding for clean energy RD&D in Finland
Notes: Circle-size represents average annual funding for each programme in millions of Euro. Hollow circles indicate the inclusion of funding not within clean energy topics. Clean energy refers to energy technologies that facilitate the transition to a more sustainable energy system.