Institutions
Who funds energy research in the Nordic countries? This category looks at answers to this question.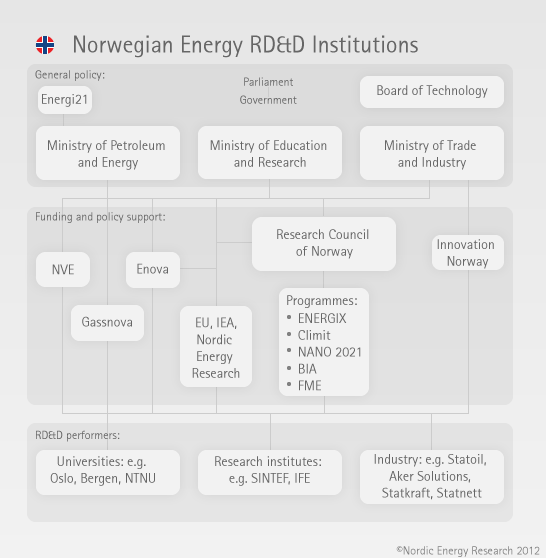 Energy issues in Norway are addressed by the Ministry of Petroleum and Energy and a number of agencies under the Ministry.
Enova was established in 2001 to promote more efficient energy use and increased implementation of renewable energy. Gassnova ensures the implementation of the government's interests in the area of Carbon Capture and Storage (CCS), while Transnova works with reducing emissions from the transportation sector. The Norwegian Water Resources and Energy Directorate (NVE) is responsible for the administration of Norway's water and energy resources.
Public research funds for low-carbon energy are mainly channelled through the Research Council of Norway, and guided by the Energi 21 strategy.  Innovation Norway, Enova , Gassnova and Transnova fund and support pre-market activities.
Based on: Klitkou, Antje et al. 2008a. Competitive policies in the Nordic Energy Research and Innovation Area
eNERGIA Part 1: Country Reports. Oslo: NIFU-STEP. Available at: www.nifu.no