Institutions
Who funds energy research in the Nordic countries? This category looks at answers to this question.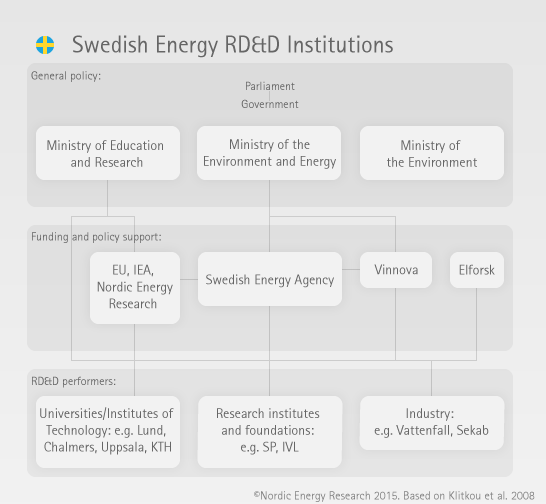 Energy policy at the governmental level in Sweden is the responsibility of three Ministries:  the Ministry of Enterprise, Energy and Communication, the Ministry of Education and Research and the Ministry of the Environment.
Swedish energy research is primarily organised through the Swedish Energy Agency and Vinnova. The Swedish Energy Agency is responsible for Sweden's national energy research programmes. They promote an ecologically and economically sustainable development for Sweden's energy systems. Vinnova is the innovation funding agency, with an aim to increase competitiveness of Swedish researchers and companies, and promote sustainable growth in Sweden. Elforsk is the research institution of Swedish industry.
Based on: Klitkou, Antje et al. 2008a. Competitive policies in the Nordic Energy Research and Innovation Area
eNERGIA Part 1: Country Reports. Oslo: NIFU-STEP. Available at: www.nifu.no