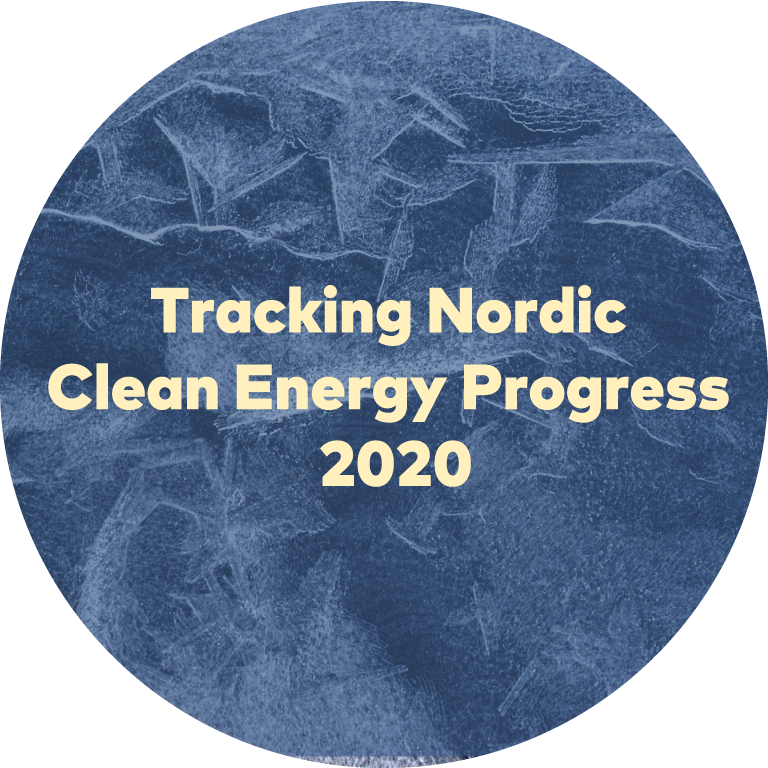 Tracking Nordic Clean Energy Progress
Tracking Nordic Clean Energy Progress is a brief, illustrative report that charts Nordic progress towards a carbon neutral society by highlighting the most prominent trends and examining scenarios where Nordic…
Tracking Nordic Clean Energy Progress is a brief, illustrative report that charts Nordic progress towards a carbon neutral society by highlighting the most prominent trends and examining scenarios where Nordic solutions can have a global impact. The report illustrates – for multiple technologies and key parameters – the latest progress in technology development and penetration, as well as market creation.
Nordic Energy Research and the International Energy Agency (IEA) published a Nordic Energy Technology Perspectives (NETP) report in both 2013 and 2016. Together, these publications represent the largest-ever collaborative IEA initiative on regional long-term, cost-efficient, low-carbon technology pathways. This report applies the global energy scenarios of the IEA's Energy Technology Perspectives (ETP) to the Nordic countries, utilising rich national data and addressing opportunities and challenges specific to the Nordic countries.
Fig 1.2: Nordic CO2 emissions and economic growth by sector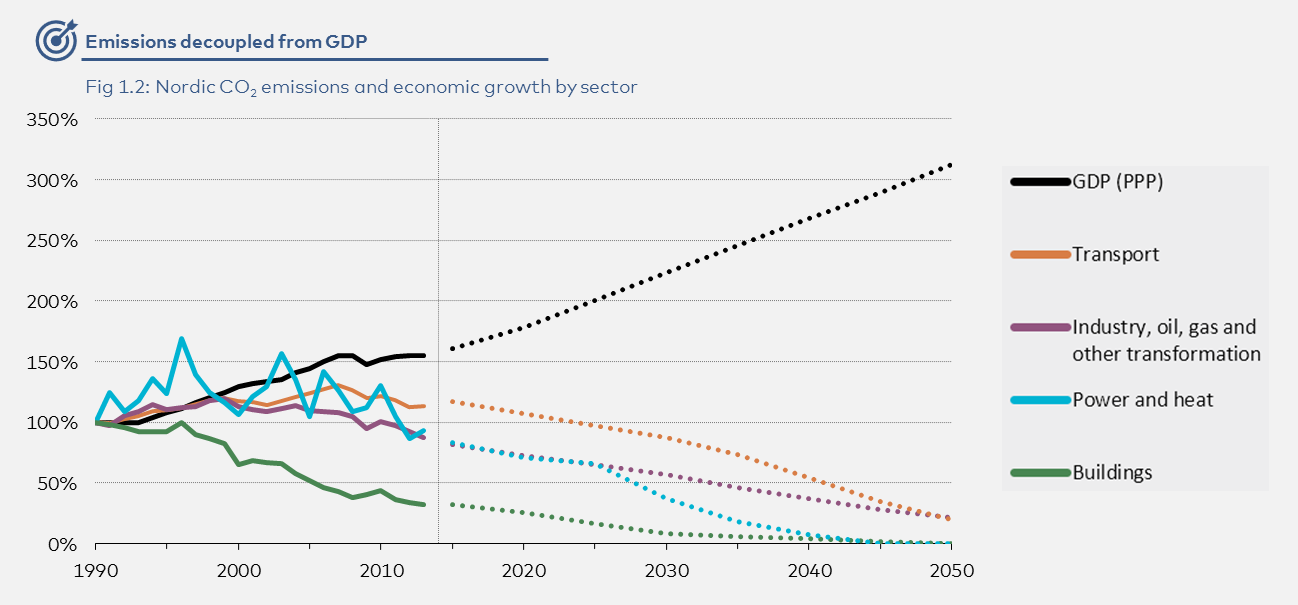 This report also aims to provide useful analytical insights into the progress made by the Nordic countries towards achieving Nordic Carbon Neutrality in line with the initiative adopted by the Nordic prime ministers in Helsinki in January 2019.
Get the report
Tracking Nordic Clean Energy Progress first published in 2019, launched on October 1st in Reykjavik, Iceland.
The second edition of the report was released in April 2020 and provides updated figures and statistics, as well as a new section on the energy transition in Europe and the rest of the world.
Click the "download publication" button above for a PDF, or visit the publications page. Hard copies can be ordered by contacting Nordic Energy Research.
Watch a presentation of the 2019 edition
COP 25
Presentation of 2019 report from COP 25 on 12.12.19 from senior adviser Bo Diczfalusy:
Next Steps for Climate Action
Presentation of the 2019 report from the event "Next Steps for Climate Action" 26.11.2019 by senior adviser Kevin Johnsen, time code 00:38:30 –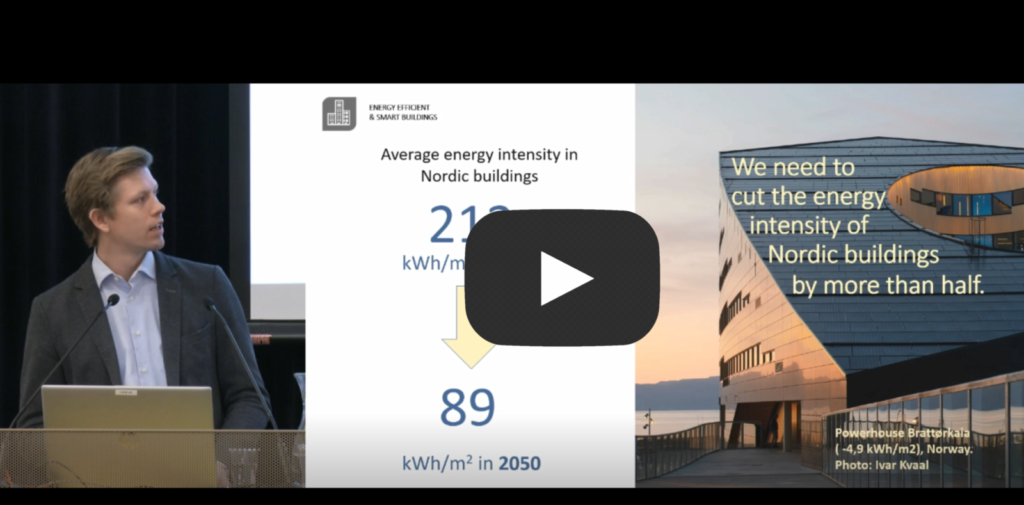 Are we on track?
The Bigger Picture
All five Nordic countries have seen significant increases in the utilisation of renewable energy and the total Nordic primary energy demand per capita has been stable in recent decades. The Nordic region has achieved a steady decoupling of GDP from energy-related CO2 emissions and declining CO2 intensity in energy supply in recent decades. Progress in industry, transport, and buildings represents the biggest challenge. Energy efficiency and decarbonisation of end-use sectors need to play a prominent role in this decoupling going forward.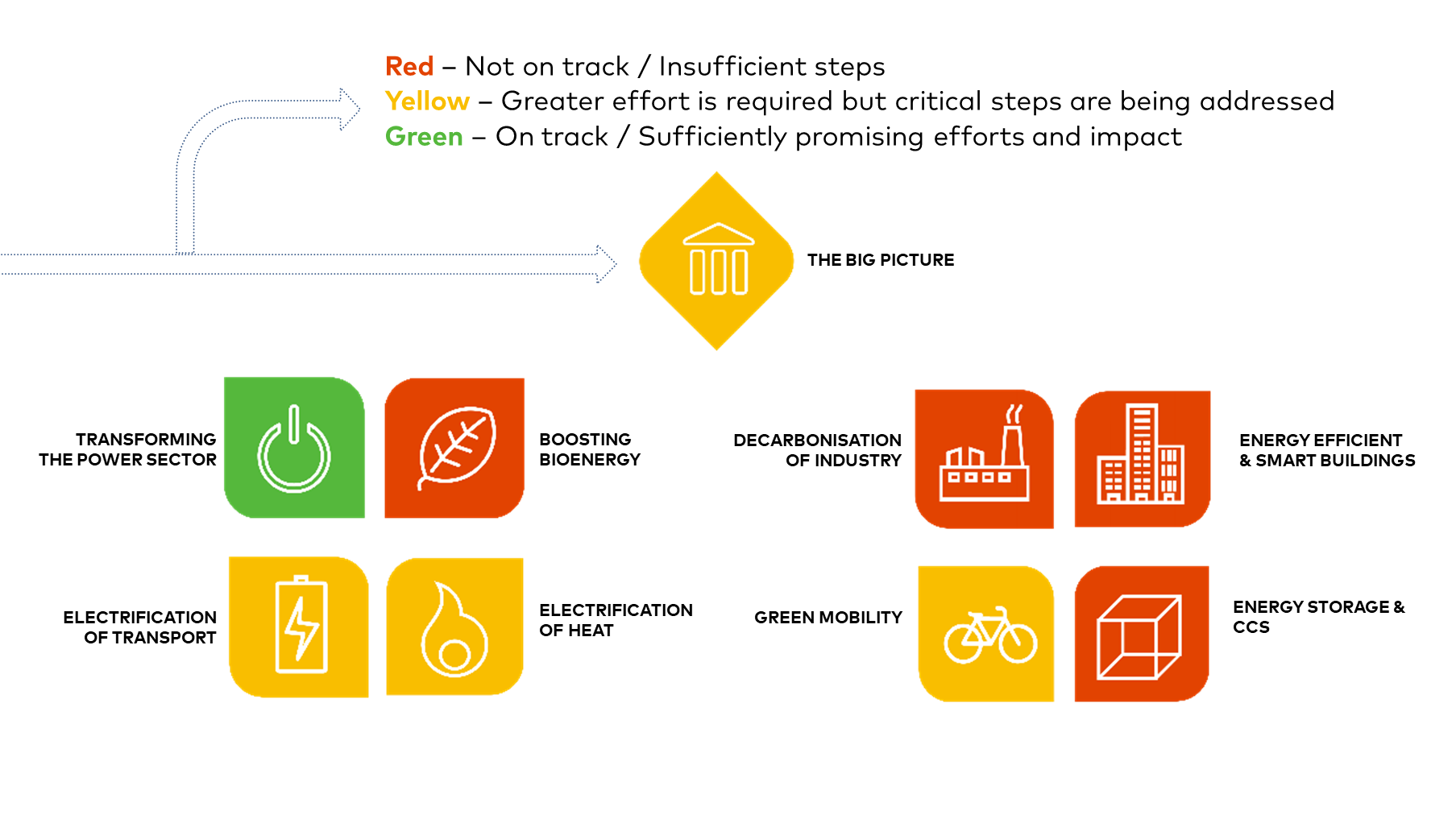 TRANSFORMING THE POWER SECTOR
CO2 emissions from power generation have been reduced by more than one-third during the last ten years. Deployment of wind power and a fuel shift from coal and gas to biomass have been key to this transformation.
BOOSTING BIOENERGY
Overall demand for bioenergy has been increasing slightly over the past ten years, particularly for biofuels used in transport. Nonetheless, bioenergy is still mainly used for heating in the Nordic countries. Moving forward, these limited bioenergy resources will have to be used for high-quality biofuels for heavy transport, industries and the chemical sector.
ELECTRIFICATION OF TRANSPORT
Electrification is the key measure of long-term CO2 reduction in the transport sector. Norway is the global leader in the deployment of EVs with a current market share exceeding 50%, yet on the Nordic level EV's only make up 4% of the total car fleet.
ELECTRIFICATION OF HEAT SUPPLY
Electrification of heating will free up biomass resources for other purposes and facilitate efficient integration of wind and solar power. The Nordic countries have high shares of individual electric heat pumps and they have ambitions to scale up the role of electricity for district heating.
DECARBONISATION OF INDUSTRY
The Nordic region is relatively energy and material efficient. Both factors have been key for competitiveness. Exploitation of residual heat and further decarbonisation of the industrial sector represent major technological and political challenges. Energy related CO2 emissions have dropped 25% during the last 10 years.
ENERGY EFFICIENT & SMART BUILDINGS
The average energy demand of Nordic buildings has decreased only slightly over the last ten years, despite major potentials for energy renovation. However, CO2 emissions per square metre have dropped markedly on the back of a large decrease in the use of oil burners.
GREEN MOBILITY
An increased focus on liveability and climate change demands new solutions for urban transport. Nordic cities are developing cycling polices, investing in electric buses and trialling new concepts for mobility as a service. However, cars still account for approximately 85% of all inland passenger transport.
ENERGY STORAGE & CCS
The large hydro reservoirs provide the Nordic countries with excellent and cheap storage options, which are already efficiently utilised. In the future, these will probably need to be supplemented with chemical storage in the form of batteries or hydrogen-based fuels. Carbon capture and storage may prove the key to reducing industrial CO2 emissions or be applied to biomass combustion to generate negative CO2 emissions.
Get in touch
Comments and questions are welcome and should be addressed to:
Nordic Energy Research
Kevin Johnsen
Senior Adviser, Nordic Energy Research
e-mail: kevin.johnsen@nordicenergy.org
Consultants: 
Ea Energy Analyses
Ea Energy Analyses is a danish consulting company providing services and performing research in the field of energy and climate change. Experts in mathematical modelling of power and heat systems.
Contact info:
Anders Kofoed-Wiuff, akw@eaea.dk