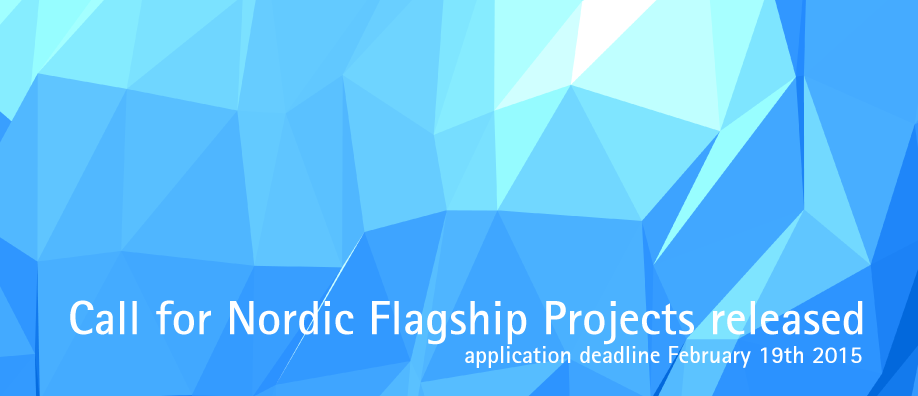 Call for Nordic Flagship Projects released
Nordic Energy Research has launched a call for pre-proposals for Nordic Flagship Projects, with a deadline of February 19th 2015. Totalling 80 million NOK, it is the largest and most…
Nordic Energy Research has launched a call for pre-proposals for Nordic Flagship Projects, with a deadline of February 19th 2015. Totalling 80 million NOK, it is the largest and most important joint Nordic funding programme for energy research for the next four years.
Homepage for Nordic Flagship Project
Ambitious and high-profile Nordic projects
This call of 80 million NOK aims to support three to five Nordic Flagship Projects of up to four years in length. These ambitious and high profile projects will address interdisciplinary research questions from a Nordic perspective, contributing to the achievement of national energy and climate targets. The projects will facilitate in-depth and effective cooperation between Nordic research environments, world-class energy research and development activities, and the production of politically relevant research results. The thematic scope of the call is limited to energy technologies and systems critical to the achievement of national energy and climate targets and visions. Proposals should be well aligned with the Nordic Energy Research Strategy for 2015-2018, which offers further direction on key thematic challenges facing the Nordic region.
Two-stage call
Nordic research environments are invited to submit brief pre-proposals by February 19th, 2015. Successful pre-proposals will be invited to submit full proposals in March, 2015. Nordic Flagship Projects should focus on creating Nordic added value, politically relevant research results, and having a system perspective. While research institutions must lead the Nordic Flagship Projects, it is strongly encouraged to include influential partners from industry to increase the relevance and impact of the research activities. The inclusion of Governmental and non-governmental partners is also encouraged where relevant. Projects must have partners from three or more Nordic countries. Projects are also encouraged to include Baltic and North-West Russian partners where relevant.
Timeline
08. Dec. 2014   Launch of call for Pre-Proposals for Flagship Projects
15. Jan. 2015    Info-meeting Webinar (sign up via call homepage)
19. Feb. 2015    Deadline for submitting Pre-Proposals at 13:00 PM (CET)
23. Mar. 2015   Accepted Pre-Proposals are invited to submit Full-Proposals
More information
Call homepage with full call text
Nordic Energy Research Strategy 2015-2018
For questions please check the FAQ on the call homepage or contact Senior Advisers Leif Christian Jensen (+47 997 43 709) or Benjamin Smith (+47 904 06 203).