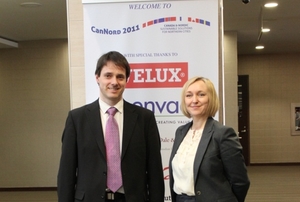 CanNord 2011 draws 180 high-level delegates
On Wednesday March 23rd 2011 the CanNord 2011 event took place in Toronto, Canada, presenting sustainable urban solutions from both sides of the Atlantic. Speakers gave presentations on how the…
On Wednesday March 23rd 2011 the CanNord 2011 event took place in Toronto, Canada, presenting sustainable urban solutions from both sides of the Atlantic.
Speakers gave presentations on how the Nordic region and Canada share many of the same challenges regarding city planning, transport and energy. More than 180 highly interested and inquisitive delegates – including the ambassadors from Norway, Sweden, Iceland and Denmark – attended the conference.
After an event filled with perspectives on how the Nordic region and Canada can learn from each other when it comes to working with sustainable solutions it was clear that both regions have come a long way in this respect. However as Chief Planner & Executive Director of City Planning Gary Wright from Toronto put it "people like progress, but they don't like change" pointing out the fact that the road ahead is not an easy one.
In another session focusing on transport, Mr. Karsten Lumbye Jensen, CEO of BrightIgnite pointed out that we need to think outside the box to achieve these changes. Meaning that we need to rethink how we use sustainable solutions to achieve our energy and climate goals. The transport sector will account for more and more of global emissions in the future and the changes it needs to become more sustainable are simply massive.
Closing remarks
In their joint closing remarks, Anne Cathrine Gjærde, director of Nordic Energy Research and Ivar Kristensen, director of Nordic Innovation Centre (pictured) pointed out the ever-increasing importance of joining forces between different cities and nations to overcome the challenges ahead.
Closing up the conference, the directors concluded that not only is there a profound willingness for Nordic-Canadian cooperation, but that there are clear synergies. It was evident from the projects presented at the conference that the Nordic Region is an area to which Canada often looks to benchmark ideas and ensure the best design and implementation of sustainable solutions back home.
"At many sessions throughout the day we have heard how the Canadians look to the Nordic countries to benchmark sustainable solutions. I hope that this day can form the foundation for future collaborations between our two regions", said director Anne Cathrine Gjærde.
Contact:
Kalle Bartholin-Nielsen
Communications manager
Nordic Energy Research
kba@nordicenergy.net
+47 9022 9155