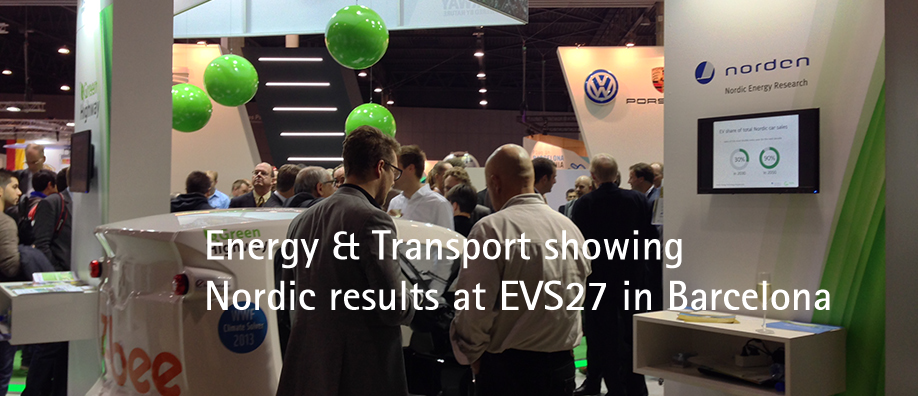 Energy & Transport Programme at EVS27 – Barcelona, Spain
The Energy & Transport programme - a research programme under the Nordic Council of Ministers - was present at the Electronic Vehicle Symposium and Exhibition 27 (EVS27) together with the…
The Energy & Transport programme – a research programme under the Nordic Council of Ministers – was present at the Electronic Vehicle Symposium and Exhibition 27 (EVS27) together with the Norwegian stand in Barcelona from 17 – 20 November 2013.
Adviser Filip Ehrle Elveling from Nordic Energy Research represented the programme at the fair, and presented key results and concepts from the research programme to visitors, experts, industry stakeholders and government authorities. Furthermore, visitors could learn more from the publications about the Energy & Transport's two main research calls and the funded projects.
Being part of both EVS27 and the Norwegian stand gave the Energy & Transport programme a platform for highlighting the results to an audience who may otherwise not have heard about the programme's results. The Norwegian stand also hosted a very successful joint event with the Norwegian ambassador to Spain on 18 November that illuminated key challenges and solutions of a prospering electric vehicle movement.
About EVS27
EVS27 is the world's biggest international electric vehicle fair and received 4,000 visitors from 58 different countries, 1,300 congress attendees and 232 exhibitors from around the world as well as 10 international pavilions dedicated to China, Canada, Netherlands, Slovenia, Norway, France, United Kingdom, United States, Denmark and Germany.