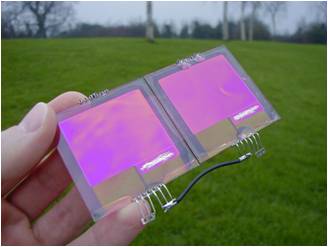 Testing organic solar cells
A better understanding of the fundamental process taking place when operating an organic solar cell was achieved  through cooperation between Northern European partners in the project Morphoso. Organic solar cells…
A better understanding of the fundamental process taking place when operating an organic solar cell was achieved  through cooperation between Northern European partners in the project Morphoso. Organic solar cells have the potential for low production costs, but major tasks still have to be addressed before we will see the technology rolled out on a large scale. Some of these were tackled in a project funded by N-INNER.
The overall aim of the project consortium was to enhance our understanding and contribute to the process of setting the basis for future improvements and thus pushing organic photovoltaics closer to real applications. The three partners combined their practical efforts and academic insights and engaged in fruitful scientific discussions on how to best improve the technology. This exhange of ideas between researchers from different Nordic countries was a valuable contribution to the project and to the advancement of polymer solar cells. Solar cells were built with different materials in all three labs and standard configurations were defined.
An evaluation platform was established that integrates device modelling, processing and characterisation to find the theoretical and experimental correlation between the thin film process, its nanomorphology and the charge carrier generation and transport in organic solar cells. In addition, the project also focused on the stability issue of organic solar cells.
The Morphoso project received 1.24 million Euro in funding from the the N-INNER 1 call in 2007, which was administered by Nordic Energy Research. The project consortium consisted of researchers from Linköping  University (Sweden), Åbo Akademi (Finland) and Fraunhofer Institute for Solar Energy Systems (Germany).
For a deeper insight into the results of the project, download the scientific report.