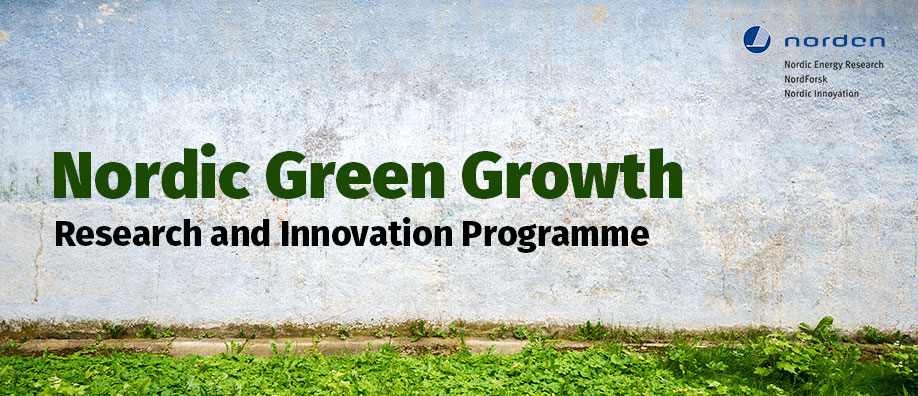 Huge interest for Nordic green growth research and innovation programme
113 proposals received! Shortlist will be announced 15 December Nordic Innovation, NordForsk and Nordic Energy Research earlier this year joined forces and launched a call for proposals on green growth to…
113 proposals received!
Shortlist will be announced 15 December
Nordic Innovation, NordForsk and Nordic Energy Research earlier this year joined forces and launched a call for proposals on green growth to accelerate the transition towards a sustainable Nordic society.  
We have received 113 proposals in total seeking in excess of 1,6 BNOK. The proposals cover a with range of topics, such as; studies of society-wide Nordic green transformation/ governance, energy system modelling, renewable energy, improved energy efficiency in materials and food production as well as transportation.
"We are really exited to see so many strong and relevant applications. It will be a challenge to choose projects but we are confident that those selected will guide stakeholders and policymakers when navigating the transition towards greener and a more competitive Nordic region" says Hans Jørgen Koch, Director of Nordic Energy Research.
The Nordic countries have committed themselves to ambitious climate goals towards 2050 in terms of developing energy efficient and low-carbon societies. To achieve these goals, we need extensive green transitions in all areas of the Nordic societies and economies. We need to promote green economic growth, sustainability and competitiveness both in the public and private sector.
"The Nordic countries are home to excellent research. This makes the region well-positioned to develop innovative solutions and policy advice to meet the opportunities and challenges of reaching the Nordic climate goals", says Gunnel Gustafsson, Director of Nordforsk.
NordForsk, Nordic Innovation and Nordic Energy Research, the main financiers of cooperative research and innovation in the Nordic countries, have therefore together launched the Green – a Nordic research and innovation programme.
"Nordic companies and startups consistently rank among the best when it comes to innovation. Companies joining forces in seeking innovative solutions may reap benefits and strengthen the Nordic region as a competence and manufacturing hub", says Carina Christensen, CEO of Nordic Innovation.
The programme has a total budget of 73 million NOK.
Read the full Nordic Green Growth call text