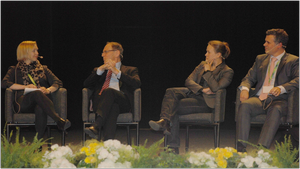 Nordic perspectives at Energy Outlook 2011, March 15-17, Gothenburg
Swedish Energy Agency's new Energy Outlook 2011 conference had a strong Nordic focus, and there was broad consensus that the Nordic countries should further develop their cooperation in the energy…
Swedish Energy Agency's new Energy Outlook 2011 conference had a strong Nordic focus, and there was broad consensus that the Nordic countries should further develop their cooperation in the energy sector.
The opening session entitled "Nordic opportunities in a European perspective" was attended by Environmental Minister Andreas Carlgren who, in light of the Japanese nuclear disaster, pointed out that nuclear power does not have a guaranteed place in the future of the Swedish energy system.
In another session, entrepreneur Eddie Jackson was awarded with the Nordic Council of Ministers bioenergy prize in 2010 for his work in developing the use of biofuels in power plants.
During one of the seminars the three Swedish candidates nominated to the Nordic Energy Municipality competition were presented. The final will be held in conjunction with the Prime Ministers' meeting on June 20th in Finland.
The conference's closing debate was chaired by Thomas Kåberger, Director General of the Swedish Energy Agency. He had invited Anne Cathrine Gjærde, Director of Nordic Energy Research, Sten Jakobsson, CEO ABB Sweden, Maria Wetterstrand, Green Party spokesperson, and Daniel Johansson, State Secretary Ministry of Industry, to discuss future perspectives on energy, climate and market issues.
From the left: Anne Cathrine Gjærde, Sten Jakobsson, Maria Wetterstrand, Daniel Johansson (Photographer: Jenny-Mariah Fagerlind, Energimyndigheten)