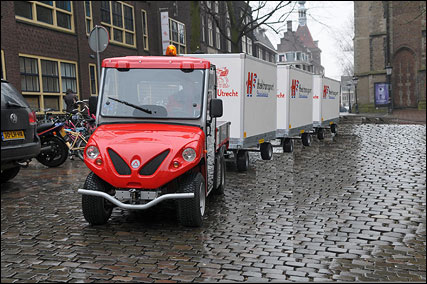 Urban logistics project presents their final reports
The SAFE urban logistics project has recently published three final reports. Emission free transportation in Nordic cities As the world's population grows, and the cities get bigger, more movement of…
The SAFE urban logistics project has recently published three final reports.
Emission free transportation in Nordic cities
As the world's population grows, and the cities get bigger, more movement of goods is needed. Today this is handled by conventional cars and vans that produce CO2-emissions and noise. By analytically looking into if and how electric vehicles can be of benefit in city freight transportation and logistics, SAFE will help lay the ground for developing cleaner cities for the future.
Summing up the findings
The report Overview of Nordic urban logistics is providing an analysis of the status of urban logistics in Norway, Sweden and Denmark. It examines the central areas that will either affect or be affected by the electrification of urban logistics.
The report How to get started guide is a help for institutions thinking about exchanging their car fleet with electric vehicles as well as for cities wanting to enhance the sustainability of their main logistic systems.
Finally the report Future electric scenarios for urban logistics discuses four scenarios for the future of urban logistics linked to political interventions. The scenarios are evaluated according to their environmental effects. An array of potential business and logistics models as well as technical solutions that could help to integrate e-mobility on a larger scale can be found at the end of the document. The document is supposed to inspire various stakeholders on how to strategically further develop both logistics companies and local/national policies.