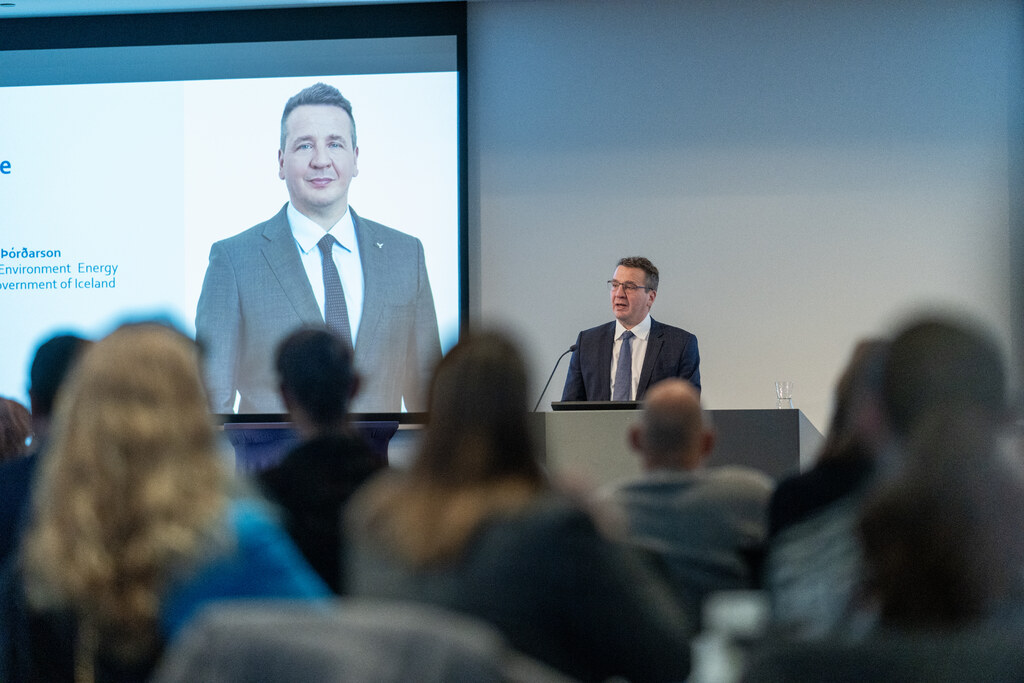 The Energy Security and Citizens Conference unites essential themes of our time
Increased energy security is at the top of government agendas worldwide. On 19 October, Nordic Energy Research organized the conference Energy Security and Citizens in Reykjavík, Iceland, with ministers and…
Increased energy security is at the top of government agendas worldwide. On 19 October, Nordic Energy Research organized the conference Energy Security and Citizens in Reykjavík, Iceland, with ministers and experts elaborating on geopolitical and democratic aspects of a secure, just, and green energy future.
"This conference unites essential themes of our time, encompassing energy security, citizen engagement, and the energy trilemma. As we delve deeper into these discussions, let us remember that the decisions we make today will resonate far into the future," said Guðlaugur Þór Þórðarson, Minister of the Environment, Energy and Climate in Iceland, who opened the Energy Security and Citizens Conference.
The conference gathered a considerable crowd. Well over 100 participants from the Nordics and beyond came to get insight into the urgent energy issues of today. With great commentary from the distinguished group of speakers and panelists as well as from the audience, the conference succeeded in elaborating on concerns and solutions in the ongoing aftermath of the energy crisis.
Energy security is synonymous with national security
In his opening of the conference, Þórðarson highlighted interconnected elements on our path towards the green energy transition.
"Recent developments, including conflicts near our European borders and the ever-present concern about climate change, have underscored the critical role that secure and sustainable energy plays in our lives. We are reminded that energy security is synonymous with national security," said Þórðarson.
"We all recognize the critical importance of energy security and the imperative of generating more sustainable energy as we transition towards healthier, more resilient economies. But there has also been a significant lack of awareness regarding our energy requirements and the urgency of moving forward. To bridge this gap, it is essential to underline that achieving public acceptance is necessary for energy utilization projects to come to fruition. It is my hope that our deliberation will yield valuable insights and actionable strategies that will collectively shape a brighter, more secure, and sustainable energy future for Iceland and the world."
A troubled world calls for more Nordic cooperation
Similar to Þórðarson, Karen Ellemann, Secretary General of the Nordic Council of Ministers, emphasized the importance of energy security.
"Energy security is a prerequisite for national security," she said.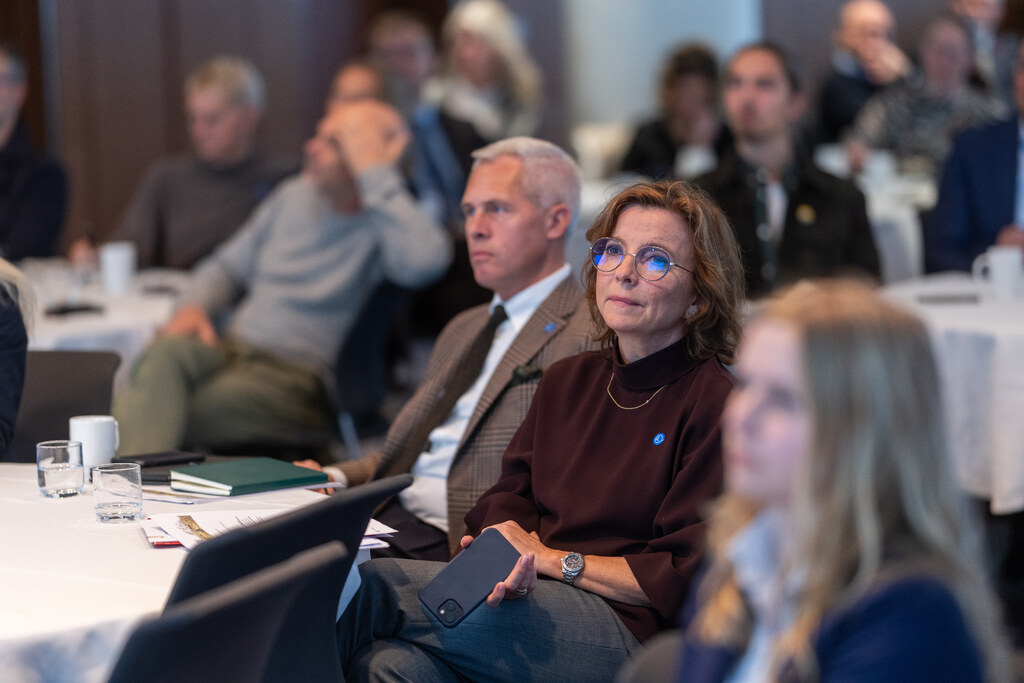 But besides being a prerequisite for national security, Ellemann pointed out the necessity of energy security in relation to Nordic cooperation.
"The topic of today's conference is very timely, both for the individual Nordic countries and for the Nordic cooperation. The Nordic region as a whole has a vision to become the most sustainable and integrated region in the world. Secure, affordable, and clean energy is fundamental to realizing this," said Ellemann.
"Yesterday, the Nordic Ministers of Energy met here in Reykjavík, and energy security was very high on their agenda. They discussed how we can use the experiences from the energy crisis to strengthen the energy supply and the green transition of the Nordic countries. A troubled world calls for more Nordic cooperation – the coalition of the Nordic region is important, especially with a view to ensuring security of supply."
Watch a recording of Ellemann's speech here.
Cultural transition for a green future
Ellemann called attention to another large part of the Nordic energy cooperation, namely the public.
"The green transition affects us all, for example our way of living and our common climate. We are all part of it and we should all be part of it. Therefore, we must make sure that it is an inclusive process. The Nordic region shall not only be a green region, but a socially sustainable region too. So we must humanize the green transition, through an inclusive cultural transition for a green future. Citizens need to engage, and we need to establish mutual trust and common values," said Ellemann.
The conference itself served as an opportunity for such public engagement. Like Ellemann noted, the discussions during the conference would inspire the work of exchanging experiences and learning from each other's best as well as worst practices.
Faster, fairer, and far-reaching
The topics of energy security and citizen involvement were addressed at the conference through two substantial sessions of keynote speeches, expert remarks, and panel debates.
The first session began with a presentation by Masha Lukyanchuk, Senior Regional Manager for Europe, World Energy Council, on the World Energy Trilemma Index and Humanizing Energy.
In her presentation, Lukyanchuk highlighted that humanizing energy is becoming a key to finding the right solutions for people and the planet.
"There is no doubt that energy is a multipurpose system. Sustainability, security, and equity must go hand in hand. No one solution fits all, so in order for all of us to succeed it is vital to engage diversity in a broader sense as a source of learning and innovation. We cannot just rely on technology or financial innovations – diverse communities need to be involved as well. If we don't manage the energy trilemma at all levels of society, we will swing from one crisis to another. For this reason, the World Energy Council stresses the importance of humanizing energy to make a faster, more fair, and far-reaching energy transition happen in all regions," said Lukyanchuk.
Watch a recording of Lukyanchuk's presentation here.
Following Lukyanchuk, Klaus Skytte, CEO of Nordic Energy Research, elaborated on the energy trilemma. The energy trilemma connects the dots between energy security, equity, and environmental sustainability, and Skytte presented the concept in a Nordic context, based on the project The Nordic Energy Trilemma – Security of Supply, Prices and the Just Transition.
Watch a recording of Skytte's presentation here.
Geopolitical dimension
Regarding the security aspect of the energy trilemma, Izabela Surwillo, Senior Researcher at the Danish Institute for International Studies – DIIS, delved deeper into its geopolitical dimension.
"The geopolitical dimension of security of supply has become more appreciated since the outbreak of war in Ukraine and the subsequent energy crisis. Russia's use of energy as a weapon of blackmail exemplifies what kind of threats we are facing today when it comes to protection of critical energy infrastructure. Subsequently, there has been a change of strategy from energy blackmail and habitual deniability to direct, deliberate targeting of critical energy infrastructue, with a number of missile and drone attacks as well as cyber attacks causing power outages. Given this current geopolitical situation with a multiplicity of threats, we need to accelerate the energy transition and diversify away from Russia," said Surwillo.
"There is existing infrastructure, especially in maritime zones such as the Baltic and North Sea, with offshore wind farms, electricity cables, pipeline connections, and so on. When it comes to e.g., Nord Stream pipelines, they basically provide a sort of cover for Russian vessels to legitimately access those waters. That is a problem."
So what can we do to face these problems? According to Surwillo, the most important thing in relation to energy supply is to have a backup.
"Secondly, there is a need for regional cooperation, especially when monitoring critical infrastructure. We need more resources and more policy focus on that. There is also a need for information sharing between industry and government," said Surwillo.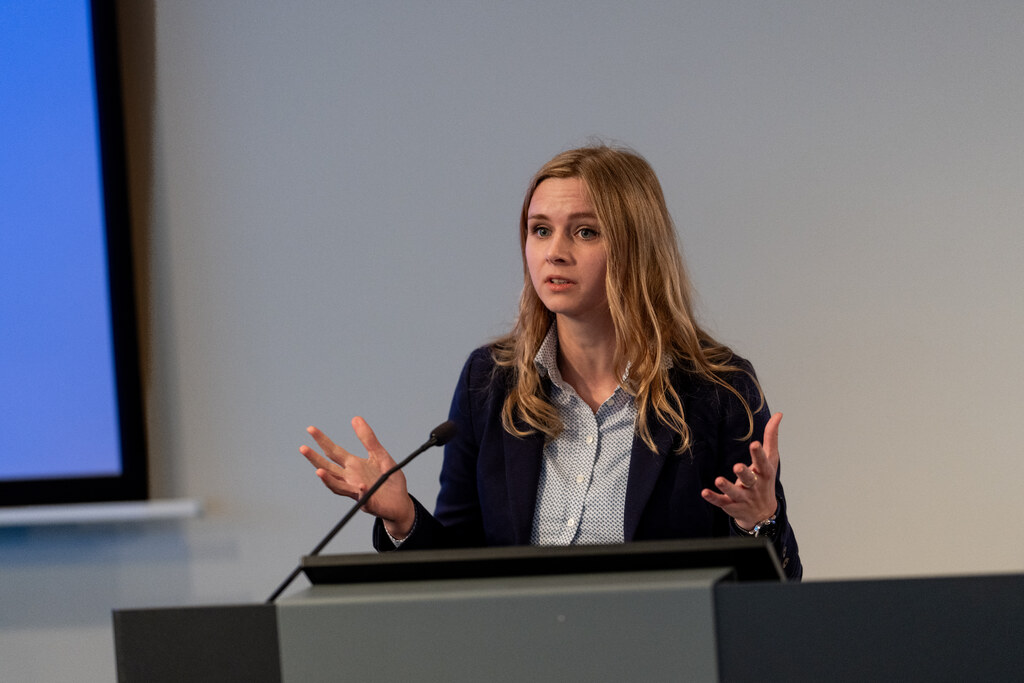 Watch a recording of Surwillo's presentation here.
Read an interview with Surwillo here.
Engaging with communities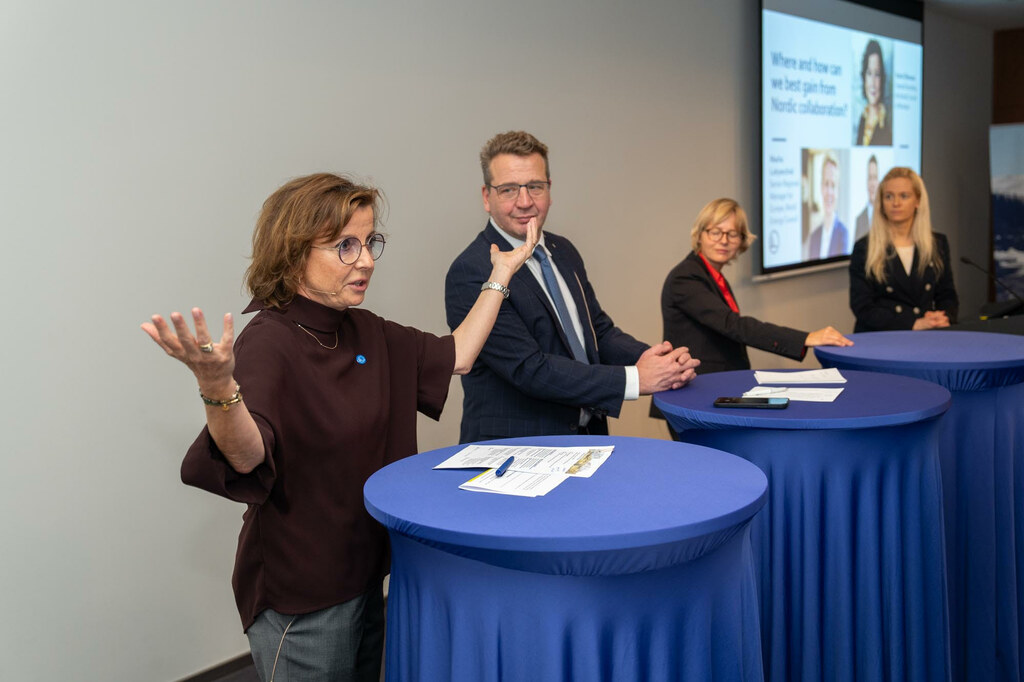 The first session concluded with a moderated debate with Karen Ellemann, Secretary General of the Nordic Council of Ministers, Masha Lukyanchuk, Senior Regional Manager for Europe, World Energy Council and Guðlaugur Þór Þórðarson, Minister of the Environment, Energy and Climate in Iceland on where and how we can best gain from Nordic collaboration. Some of the issues addressed included ways in which the government is engaging communities and how we can translate the dialogue on the green energy transition into action.
Guðlaugur Þór Þórðarson, opened the debate by describing how Iceland has worked with engaging communities to enhance energy security, highlighting the importance of how people perceive the situation and how important it is to explain the situation by delivering facts. He exemplified the work they do together with municipalities to enhance the process and inclusion in the buildout.
"It makes no difference if it's a wind turbine, a geothermal plant, or if it's a hydro plant, you can't ask people to put it in your backyard and say, just be proud to be a part of the green transition. They need more."
Energy is something that a lot of people have previously taken for granted, Karen Ellemann continued, "We just plug it in, and it works". But after Russia's invasion of Ukraine last year, the knowledge that energy can be used as a war weapon and that we can't take supply for granted has increased in the Nordics. Ellemann highlighted the strength of the Nordics and the need to increase knowledge about energy systems in education.
"We, all of the eight Nordic countries, are all very strong democracies with well-educated populations, and we need to insist that that is our core, and we need to make sure that this is in the curricula in the schools to know about the energy supply and how it actually works."
People's anger and frustration should be taken seriously by decision-makers. It's important to engage in the debates and be very pedagogical, given the technical nature of energy, Ellemann said.
The World Energy Council works with the concept of humanizing energy, and Masha Lukyanchuk explained that by engaging in discussions in schools early they want to help people understand what energy is about and its importance.
One question from the public regarded the sub-high-voltage connectors between countries and their importance for energy security, especially in regards to the islands.
"You could argue that it's good for energy security, but it's not as simple as that." Þórðarson started. "For us Icelanders, there's a lot of other things that would be meaningful for us. If we connect to other countries in EA that would mean that we would say goodbye to these low electricity and energy prices."
"You saw it when Klaus presented the analysis, that's where we really see the differences within the Nordic countries" Ellemann said, and continued "You asked specifically about the islands, and what we've done there of course again making sure to create the access for people to talk together not only within the Nordics but we also look west to Scotlands and the islands there because there are some similarities and lessons learned". As a concrete example, Ellemann put forth the Net Zero Islands Network that Nordic Energy Research leads.
Watch a recording of the panel debate here.
Perspectives on the public and policy
The second session of the conference centered on citizens' engagement. This is an issue that Dag Inge Fjeld, Assistant Professor at Kristiania University College, School of Communication, Leadership and Marketing, has been tracking for more than 20 years. Among other things, he discussed how and why people prioritize jobs or environmental protection.
"Jobs are prioritized when times are hard, when crises appear, and when COVID hits. When you feel insecurity, you choose jobs. When times are good, you vote for the environment. That's the general pattern," said Fjeld. "But," he adds, "it is more important to know who has what opinion, rather than what the opinion is."
Therefore, Fjeld has looked into questions such as where the people with these opinions have grown up, what their profession and income are, and what education they have.
"The more education you have, the more you're connected to the public sector. And if you work at local or state governments or schools, you have a very secure job. Then you can say that the environment comes first. But the interesting thing is that public employees don't risk their jobs, so it's easy for them to be all about the environment. We need to recognize and understand this source of resistance," said Fjeld.
Watch a recording of Fjeld's presentation here.
Following Fjeld's presentation, Kristian Borch, Associate Professor at Aalborg University and Senior Scientist at Ruralis, Institute for Rural and Regional Research, talked about citizen involvement in renewable energy.
"When we ask people before a planned wind turbine project, they are pretty positive towards it. But the closer we get to implementation of a particular project, the more negative they get. Why is this? Because the planning process is a traumatic experience. It's simply too late to consider the social context in a short hearing period before decisions have to be made – the planning, development, and deployment of renewable energy facilities must start from the social context," said Borch.
He has divided the acceptance of renewables into three categories: policy, market, and community. Community acceptance is about justice and trust.
"There seems to be a decoupling of the community. While we have very strong lines between the politicians and the industry, we are forgetting the citizens. I see this due to a lack of direct democracy. We don't talk to the people. This is perceived as a procedural injustice, as the people who have to live with the decisions don't know who made them or why they were made. This leads to a lack of trust," said Borch.
"Therefore, we need to explain to the politicians that they must move away from monetization of renewables into understanding their common good. And the market has to accept that they need to move from maximizing profits into increased emphasis on non-financial objectives, such as environmental goals and social responsibility."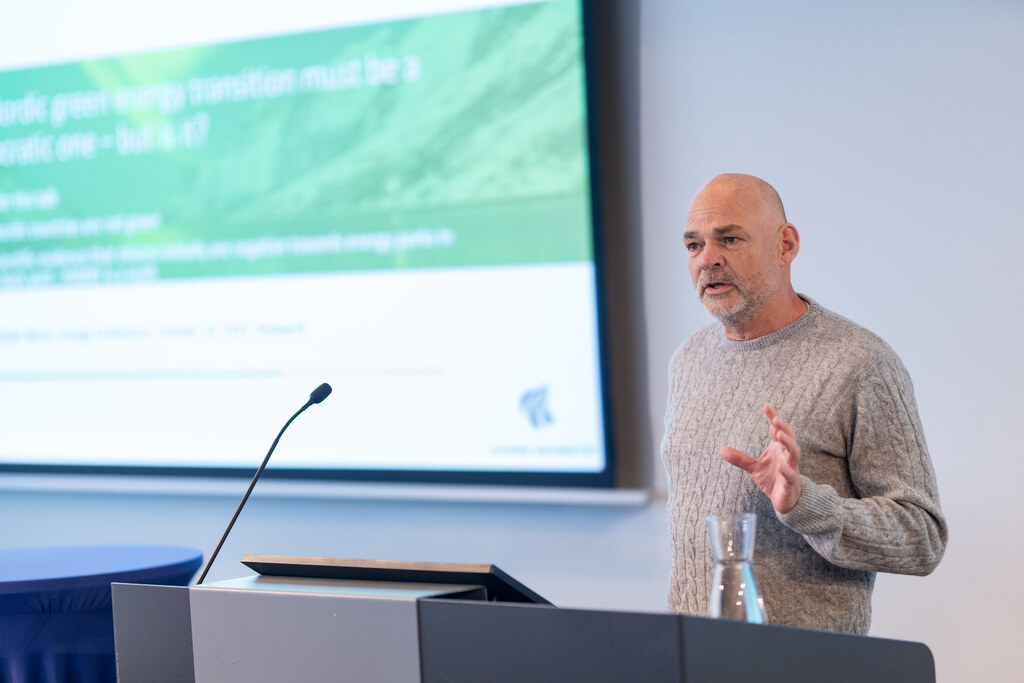 Watch a recording of Borch's presentation here.
Read an interview with Borch here.
While Borch talked about the early process of product development, permissions, and construction, Claus Meineche, Head of division at the Danish Energy Agency, elaborated on the aspect of financial compensation when a power plant is ready for operation.
Watch Meineche's presentation here.
Finally, the conference concluded with a moderated debate between Gillian Martin, Minister for Energy and the Environment at the Scottish Government, Kjell-Arne Ottosson, Chairman of the Committee for Growth and Development in the Nordic region at the Nordic Council, and Natuk Lund Olsen, Permanent Secretary of Agriculture, Self-sufficiency, Energy and Environment in Greenland. The theme for their discussion was how we can safeguard and develop our Nordic tradition of democracy and active user participation.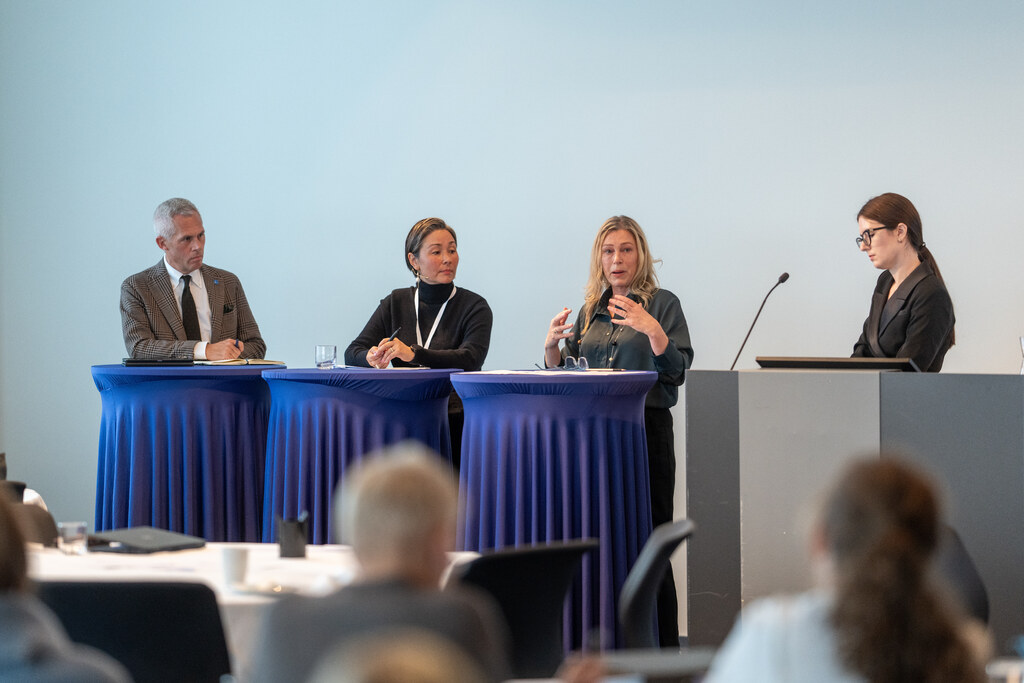 The panelists all agreed on the importance of engaging the people to enable the green transition, not only for raising their level of understanding and support of energy projects but also for establishing trust and respect. This is, however, not without challenges, which Martin exemplified.
"When we are hosting green energy infrastructure, communities should benefit and be involved very early in the decisions. The developers must have a partnership working with local authorities and councils to make sure that the community not only benefits, but also get to decide what those benefits are. So, one of my asks is for developers to find more meaningful ways to make this very democratic," said Martin.
"Another challenge is what kind of community benefits can offered. Rural areas will host a lot of the energy infrastructure, but they have the highest fuel poverty in the UK. So, they are rightly wondering about the infrastructure in their back gardens, the unspoiled places in Scotland where they live and work, when they at the same time can't afford to put their heating on. The UK energy market mechanisms are against them. It's very difficult to translate any community benefits into household benefits," she adds.
How can these challenges be successfully met? According to Ottosson, you must talk to those who are affected by meeting them on eye level. This is something Martin concurs with.
"The developers have to be embedded in the affected communities, talk to those communities in a way that is adaptive to their concerns," said Martin.
One way to do that in practice is to make close connections with local colleges and schools.
"By embedding themselves in the wider community, particularly with young people, through apprenticeship schemes and local job offerings, I think that is one of the things that really helps developers. One of the first questions I ask them is, what do you give back to the communities that host you?" said Martin.
In order to answer that question, Lund Olsen also pointed out another fundamental question.
"How do we define communities? Sometimes it's a community of place, but sometimes it's a community of interests or activities," said Lund Olsen.
Watch a recording of the panel debate here.
Nordic Energy Research, in collaboration with co-organizers The Nordic Council of Ministers and the Ministry of the Environment, Energy and Climate of the Government of Iceland, would like to thank all participants for contributing to an insightful and constructive event, on the path towards a just green energy transition.
See all photos from the conference here.
To stay updated on the latest news, tenders and conferences from Nordic Energy Research, sign up for our newsletter and follow us on LinkedIn.

Photo credit: Eyþór Arnason.