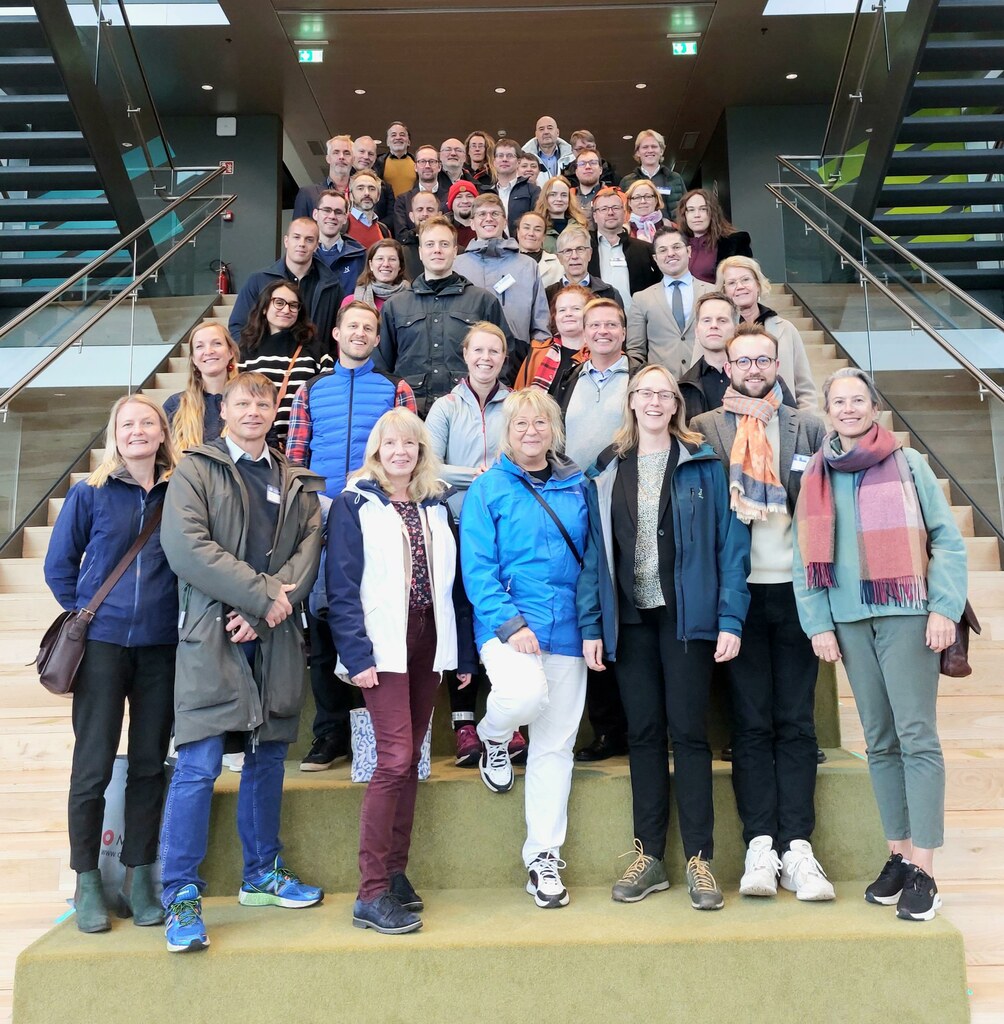 The Nordic Hydrogen Valleys Conference
On 4–5 October in Reykjavík, Iceland, Nordic Energy Research organised the Nordic Hydrogen Valleys Conference, which is part of the programme Nordic Hydrogen Valleys as Energy Hubs. More than 100 attendees…
On 4–5 October in Reykjavík, Iceland, Nordic Energy Research organised the Nordic Hydrogen Valleys Conference, which is part of the programme Nordic Hydrogen Valleys as Energy Hubs. More than 100 attendees took active part in two days of presentations, panel debates, and peer sessions, as well as a workshop and site visit. Together they discussed how we can accelerate the path toward hydrogen valleys as energy hubs in the Nordics.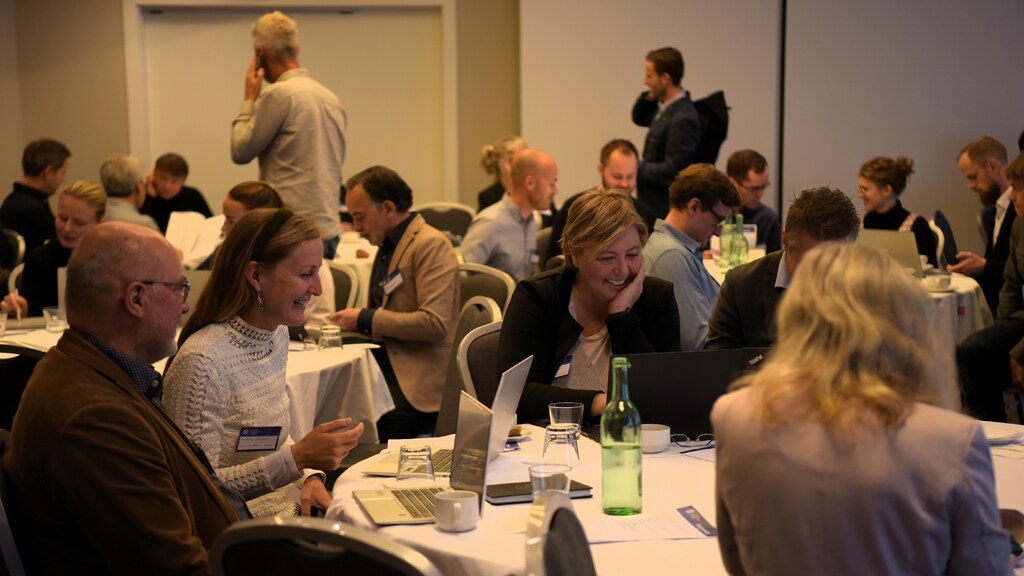 Making the green transition happen, right here, right now
The first day of the conference engaged a great gathering of energy stakeholders from across the Nordic region and beyond. They had traveled to Reykjavík to exchange experiences and ideas on the potential of hydrogen in our efforts for decarbonization.
Baldur Pétursson, Project Manager at Orkustofnun, Icelandic National Energy Authority and Chair of the Board of Nordic Energy Research, gave a warm welcome to the conference, which was followed by insightful presentations from keynote speakers such as Maja Lundbäck, Political Adviser to the Deputy Prime Minister of Sweden and Minister for Energy, Business and Industry at Government Offices of Sweden, and Francesco Reda, Research Manager at VTT.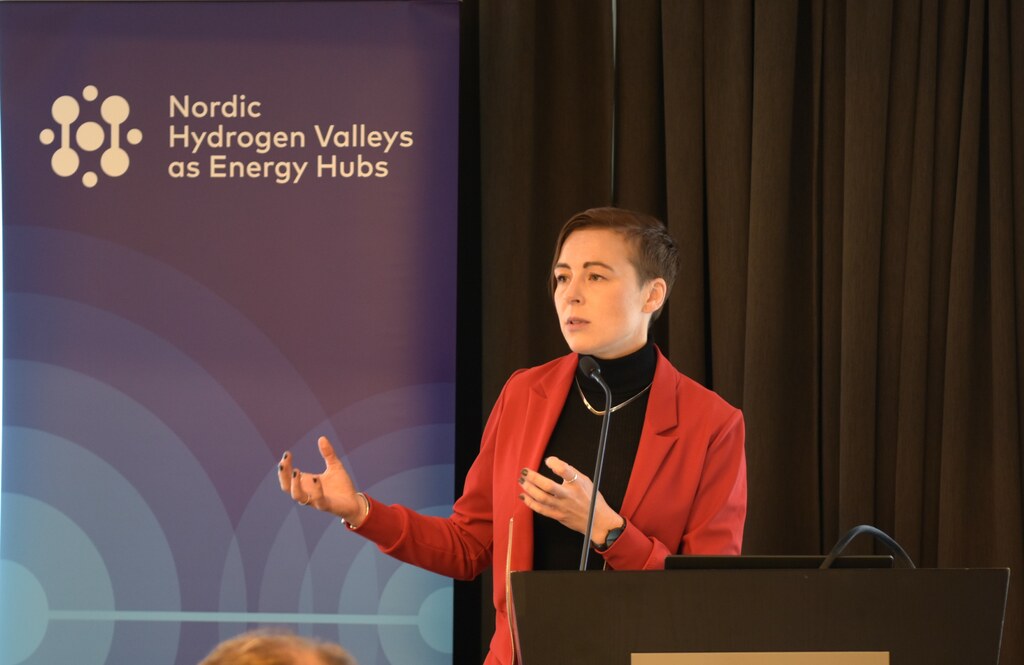 According to Lundbäck, the Nordic Hydrogen Valleys Conference and the Nordic Hydrogen Valleys as Energy Hubs programme play an important role in reaching our climate goals and achieving the green transition.
"The conference combines the Nordic expertise in the hydrogen field, so that we can work together and become stronger in the energy sector. It is about building knowledge, exchanging experiences, and making sure that we pave the way forward in a practical sense – making the transition happen right here, right now. We have already started – now we need to accelerate. That's why events such as the Nordic Hydrogen Valleys Conference are so valuable, so we can share what we have learned and be inspired by each other," says Lundbäck.
The capacity of hydrogen solutions in the Nordic region is something that Reda points out too.
"Nordic countries are best positioned to become the green hydrogen production hub of Europe, with an abundance of renewable wind energy, a diversified energy mix, a stable and robust electricity network, political stability, access to best knowledge and components of the hydrogen value chain, robust infrastructure (road, rail, and harbours) and sector coupling opportunities (in electricity and heating) for side stream revenues. The region is a prime location for industries looking to invest for decarbonizing their productions," says Reda.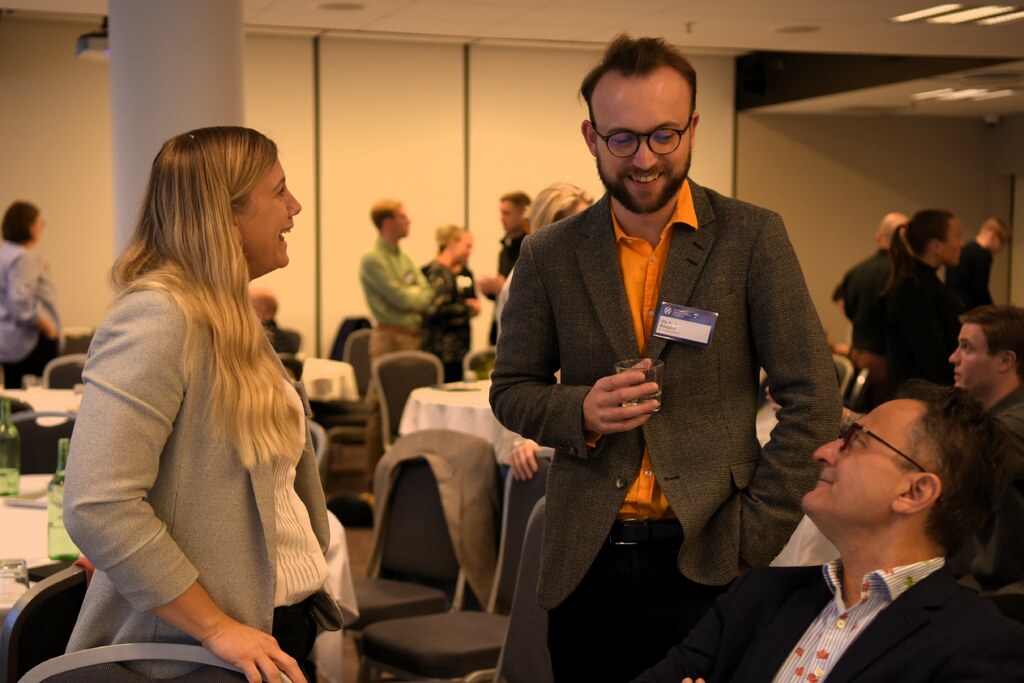 After the keynote speeches, a workshop session engaged the participants in reflections and recommendations on future challenges, based on the input during the first day. Lise Nielson, Programme Administrator of Nordic Hydrogen Valleys as Energy Hubs and Senior Adviser at Nordic Energy Research, emphasizes the significance of such networking activities.
"The workshop and consortia work is really important, as it provides better links between academia, business, and government institutions. This allows us to shed light on each other's blind spots," says Nielson.
Five projects in focus
The second day of the conference put focus on the five projects funded within the Nordic Hydrogen Valleys as Energy Hubs programme. Partners from each project got to present their work and then comment upon each other's approaches, in order to share input and discover ways of cooperating.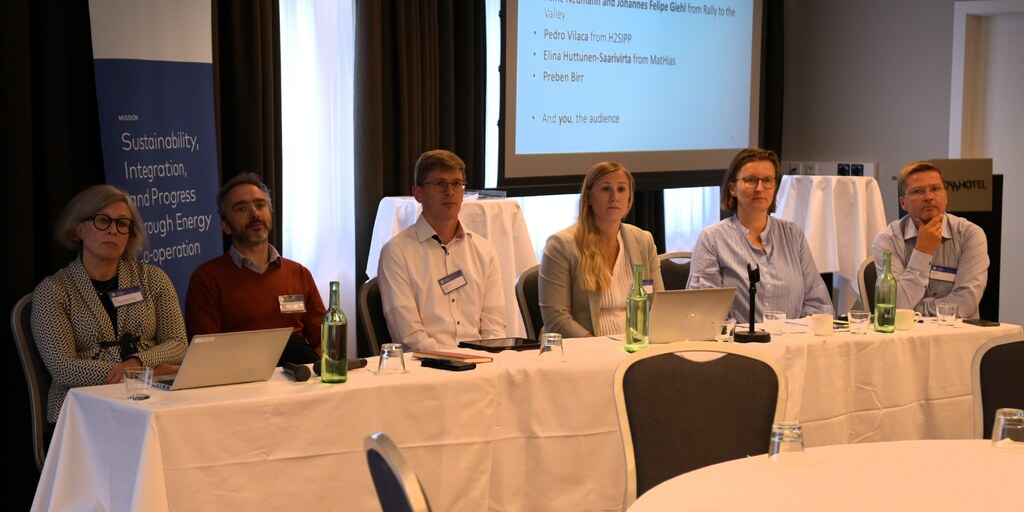 During the peer sessions, thoughtful remarks and questions from the project partners as well as the audience demonstrated a considerable interest in opportunities for collaboration and further synergies in the Nordic hydrogen sector. Lise Nielson takes many valuable observations with her from these sessions. Firstly, she addresses economic incentives.
"A lot of effort is put into the hydrogen economy, but actual implementation of these efforts lags behind. Therefore, the industry calls for government resolutions that lower the risk of making investment decisions. Such incentives should be sector-specific and carried out step by step – on a Nordic level, the rules and regulations should have the same goals, qualities, and values, but on a sector level, they should be formulated differently," says Nielson. "If government procurement decisions on the other hand are weak, then commitments in the public will be weak," she adds.
Secondly, Nielson therefore addresses the involvement of public stakeholders.
"We need to learn more about interaction with consumers and end-users. How do we get them to be part of the solution? Co-creation could hold some of the answers, as well as research and development activities that involve end-users in the value chain," says Nielson. "At the same time, we need to educate local authority staff to be contact points for permitting where relevant. Educated locals generate positive attitudes towards new technology and change."
Furthermore, the interest in the potential of hydrogen was made clear as the Icelandic TV channel Stöð 2 and the online newspaper Vísir visited the conference on the second day. In their report, they highlighted how solutions reached by the hydrogen experts during the conference can make a big difference for Icelanders. One of the hydrogen experts they interviewed on-site was Sigrid Lædre, who is Project Lead of Nordic Hydrogen Hubs – Roadmaps towards 2030 and 2040. She called attention to how hydrogen can play an important role in the transition for the maritime sector.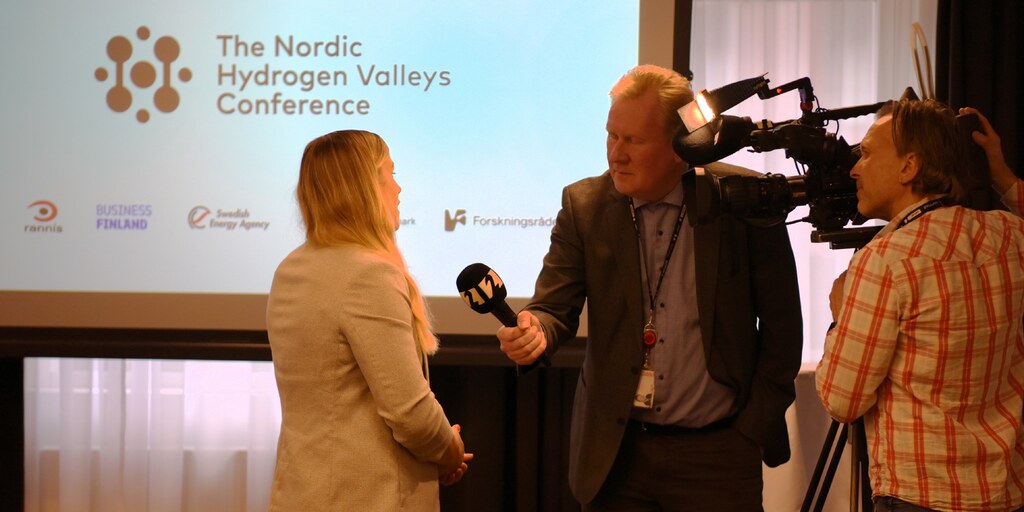 You can read Vísir's article on the conference here and see Stöð's news feature here.
Terminating with a geothermal stop
The Nordic Hydrogen Valleys Conference concluded with a site visit to Hellisheiði Power Station. The participants were introduced to the establishment, which is not only one of the largest geothermal power plants in the world, but also the world's first carbon neutral geothermal power plant and a global leader in CO2 sequestration.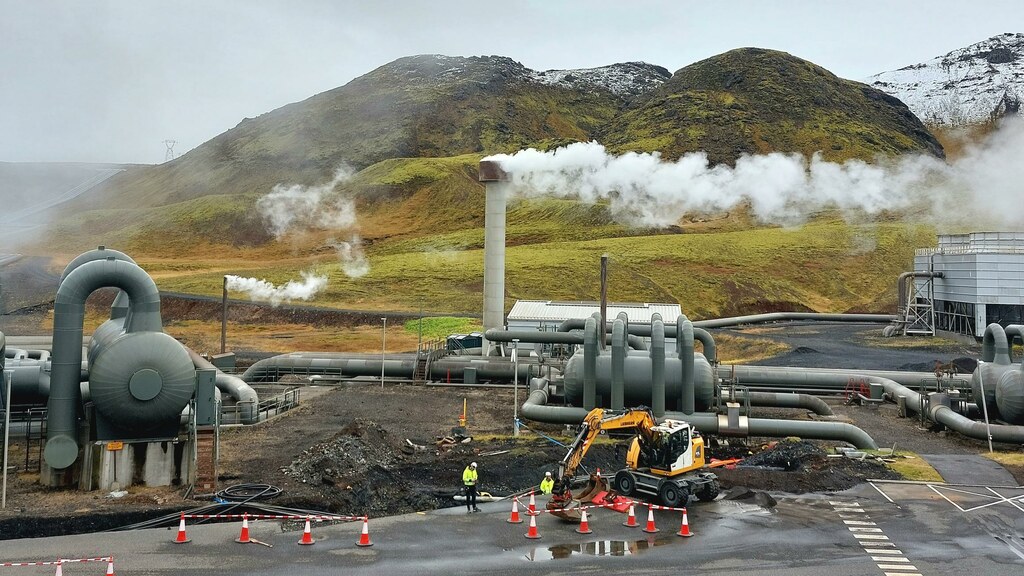 Nordic Energy Research would like to thank all conference participants for their knowledgeable contributions. With such a successful first conference within the Nordic Hydrogen Valleys as Energy Hubs programme, we look forward to hosting the next one, which will take place in Luleå, Sweden, in January 2025. Before then, there will be a webinar in March 2024. To stay updated on the latest activities, make sure to follow the programme on LinkedIn.