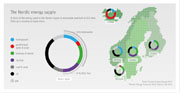 New visualisations cast light on the Nordic energy system
Nordic Energy Research has launched a new portal, The Nordic Way, which offers unique visualisations of the energy sector in the Nordic region. The site features a collection of indicators and diagrams…
Nordic Energy Research has launched a new portal, The Nordic Way, which offers unique visualisations of the energy sector in the Nordic region. The site features a collection of indicators and diagrams shedding new light on the energy systems, policies and institutions of the Nordic countries.
Which Nordic country has the highest share of renewables? How do the national climate targets compare? Which low-carbon technologies get the most funding?  What are the relevant institutions for energy in the Nordic countries? Head over to The Nordic Way and find out.
The site is intended as a resource for decision-makers in the Nordic region. It can be used as a quick reference for statistics, a place to browse for new information and inspiration, and as a source of high quality figures and diagrams for use in presentations and reports. All content is easily downloaded in high resolution.
The Nordic way will be continually updated with new visualisations, keep up to date by following The Nordic Way on Twitter. You can find The Nordic Way in the top menu on Nordic Energy Research's pages.