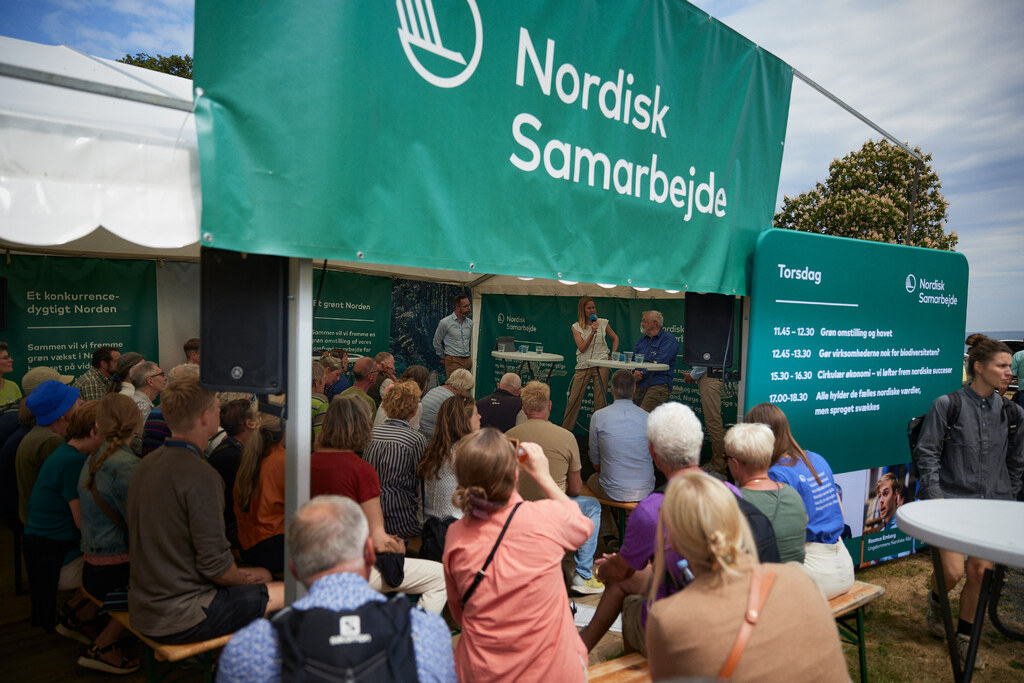 The People's Festival 2023: Energy security and just transition high on Nordic agenda
Nordic energy co-operation was high on the agenda at the 2023 Danish Democracy Festival, the "People's Festival" (Folkemødet), on Bornholm, with the backdrop of an ongoing energy crisis and the…
Nordic energy co-operation was high on the agenda at the 2023 Danish Democracy Festival, the "People's Festival" (Folkemødet), on Bornholm, with the backdrop of an ongoing energy crisis and the 2022 Nord Stream pipeline explosions near the island in the Baltic Sea.
Nordic Energy Research hosted two events in the Nordic tent, which was a popular destination for youths, industry professionals, and politicians alike, eager to learn what the region is doing to become more sustainable, integrated, and resilient in the face of a changing climate and acute geopolitical threats.
The Green Transition and the Sea
The first event, on Thursday 15 June – "The Green Transition and the Sea" – featured a panel with Anne Mette Mosekjær Søndergaard, Head of Public Affairs Denmark at Ørsted, Michael Bindseil, Executive Vice President at COWI, and Erik Bjørn Olsen, Chairman of Levende Hav.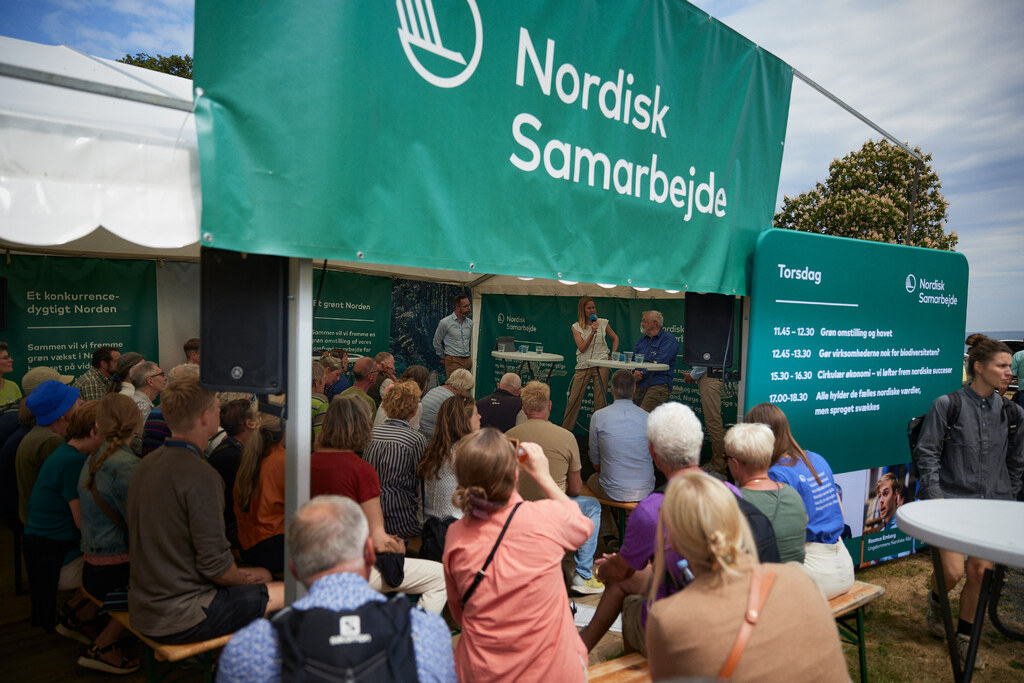 The discussion built on experiences from the report Coexistence and nature-inclusive design in Nordic offshore wind farms, attracting offshore wind professionals, nature conservationists, and marine stakeholders. A massive expansion of offshore wind capacity is fundamental to Nordic energy security, but it is also leading to a race for ocean space. Interested parties do not necessarily agree on how the North Sea and Baltic Sea should best be utilised during this Nordic energy transition.
Energy company Ørsted is exploring new approaches to accommodating marine ecosystems in the development of wind farms. A ground-breaking new partnership between WWF and Ørsted aims to promote the deployment of offshore wind in a way that improves marine biodiversity and drives a global shift towards solving climate and biodiversity goals together.
COWI – an international engineering consultancy – has advised the Danish government on the assessment of award criteria for offshore wind tenders. Granting permits for energy projects based not only on price, but also on qualitative criteria, such as environmental benefits, sustainability and system integration, could strengthen the global competitiveness of Danish energy projects.
Meanwhile, Levende Hav advocates for stakeholders whose livelihoods are linked to the sea. In their view, fisherman have earned the right to harvest food from the sea, and they believe that sea should be viewed as a natural transport route and an important area for leisure and recreation. In a changing seascape, the managing the marine environment with caution is more important than ever.
While the panel debated whether the importance of energy transition risks outweigh nature conservation and cultural values, it was clear that Nordic co-operation is necessary to help governments use qualitative award criteria for nature-inclusive offshore wind projects.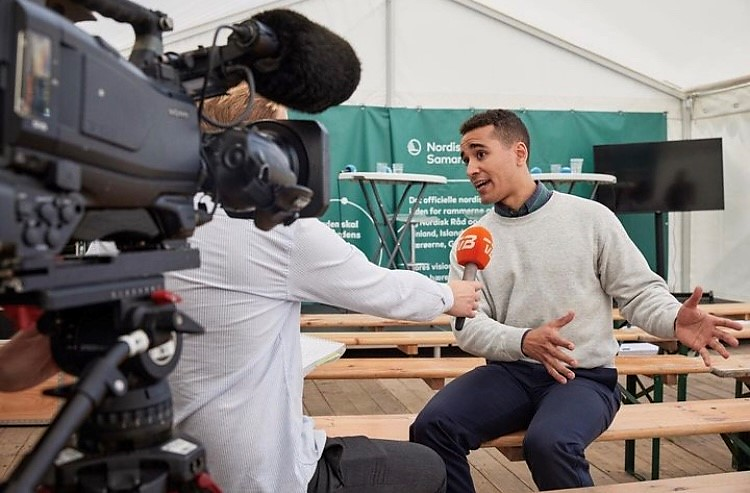 Energy and Security – A New Trilemma
The second event, on 16 June – "Energy and Security – A New Trilemma" – brought together Line Dybdal, Country Market Director at Ramboll, Mette Rose Skaksen, Vice Administrative Director at Green Power Denmark, Nadia Gullestrup, Foreperson of the Danish Youth Council and EU Youth Delegate to the UN, and Michael Bindseil, Executive Vice President at COWI.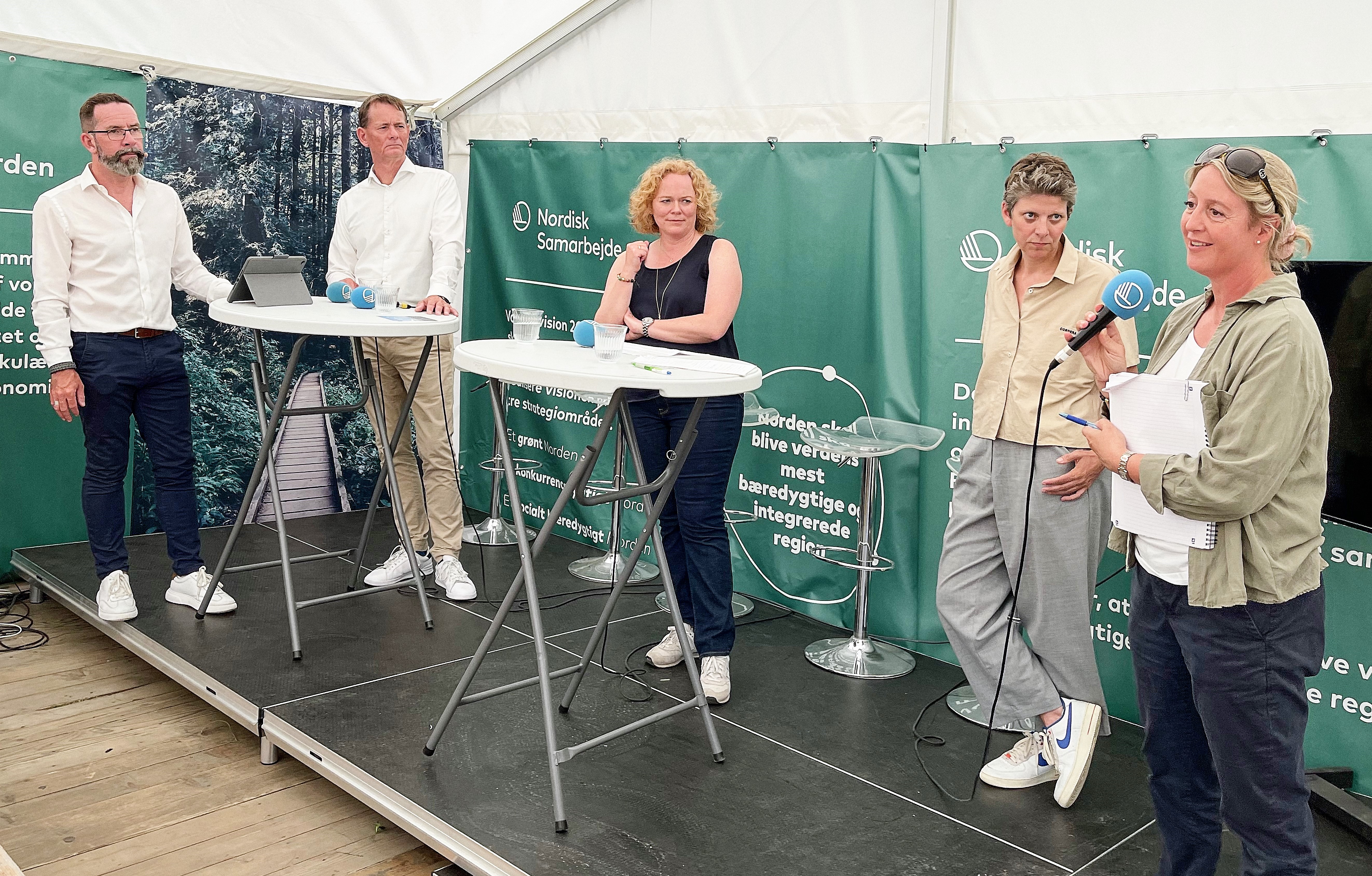 The discussion was opened by Ida Heimann Larsen, Head of Department, Growth and Climate at the Nordic Council of Ministers, with reference to the report The Nordic Energy Trilemma – Security of Supply, Prices and Just Transition. The panel proceeded to address the question: Can we still achieve our climate goals while ensuring a fair and green transition?
Engineering consultancies Ramboll and COWI believe sustainability is the most important dimension of the so-called "Energy Trilemma", outweighing the security and affordability dimensions. In their view, a sustainable energy transition ensures a secure and fair energy transition. While the engineers believe they have solutions to address future energy crises, this also depends on Nordic policymakers taking action to balance the Energy Trilemma.
Green Power Denmark acts as a mouthpiece for the Danish energy sector. Together with their members, they work to ensure that Denmark is electrified with green electricity as soon as possible. However, the business organisation also recognises that a rapid, large-scale electrification of society is not a risk-free endeavour, and that Danish companies need to secure their supply chains and labour force for a new set of demands and risks.
From a youth perspective, it is critical that energy security does not come at the expense of the climate. The Danish Youth Council believes new thinking is needed in Danish climate and energy policy, and the organisation is actively promoting future climate solutions to the Danish Climate and Energy Minister, Dan Jørgensen.
The energy crisis has demonstrated that the value of a strong, regional, Nordic energy co-operation cannot be overestimated, and should be strengthened moving forward, so that our societies are prepared for challenges of the future. 
The People's Festival gathered a wide variety of people from different backgrounds with a common interest in democracy, by way of informal conversations, speeches, and meetings. Nordic Energy Research illustrated the significance of Nordic energy co-operation, in a time when national security, the environment, and social concerns of the energy transition have never been more salient.