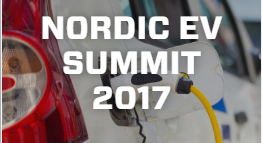 First Nordic Electric Vehicle Summit
Watch video from the summit on YouTube.  Download PDFs of presentations from the summit.  Browse more photographs of the summit.  The first ever Nordic EV Summit took place on the 7th and…
Watch video from the summit on YouTube. 
Download PDFs of presentations from the summit. 
Browse more photographs of the summit. 
---
The first ever Nordic EV Summit took place on the 7th and 8th of February, at the sold-out convention centre in Drammen, Norway.
The summit gathered members of the automobile industry, Nordic ministers, representatives from the Nordic EV industry, researchers, and others, to discuss electric mobility. It was an international crowd, with speakers and attendees from across Europe, north and south America, and even New Zealand.
There was a good deal of enthusiasm amongst the participants about the future of electric vehicles in the Nordics, and the rest of the world.  Although EVs still have a long way to go on the journey to mass-adoption, many of the analysts and industry representatives were optimistic about the momentum of recent years.  Several argued that the 'inflection point' for EVs in Europe could come as soon as 2020.
Electric vehicles still face challenges, however.  Industry representatives and analysts emphasised the importance of consistent EV policy to encourage investment.  Policy that is seen as being subject to change with an incoming government, they argued, can scare away consumers and investors interested in electric vehicles.
The Nordic EV summit 2017 was presented by Teknisk Ukeblad, NCE Smart Energy Markets, the Norwegian EV Association, Electric Mobility Norway, and Nordic Energy Research.
---
In a parallel session at the Nordic EV Summit, Nordic Energy Research's Svend Søyland hosted representatives from the maritime sector to discuss electric marine transport.
The session hosted four speakers from the shipping, transport, and tourism industries in the Nordics, who presented electric maritime projects currently underway.
The speakers presented innovative solutions for the de-carbonisation of their sector, and shared their visions for eventually making it emissions-free.