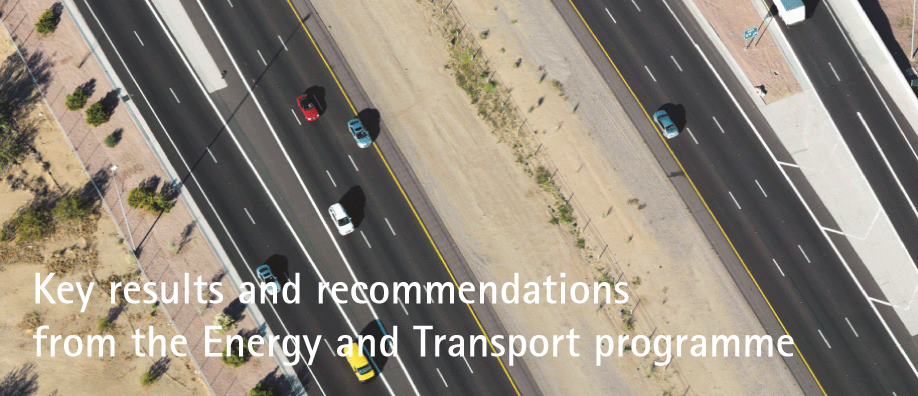 Key results and recommendations from the Energy and Transport programme
The programme, spanning from 2010 to 2014, has aimed to contribute to making the Nordic region a leading region in Europe for developing, demonstrating and using new, sustainable energy technologies…
The programme, spanning from 2010 to 2014, has aimed to contribute to making the Nordic region a leading region in Europe for developing, demonstrating and using new, sustainable energy technologies in the transportation sector.
The programme encompassed two portfolios of funded projects: Electric Transportation and Sustainable Freight Transportation. Twelve projects received a total of19 million NOK in funding. The report "Key results and recommendations" highlights the most important aspects of the projects, the main outcome of the programme on Nordic energy and transport cooperation, and looks further beyond to future Nordic cooperation possibilities.
The report also contains a special in-depth project showcase focusing on three projects that demonstrated excellent Nordic added value:
Range & Performance of Electric Vehicles in Nordic Driving Conditions measured the performance of electric vehicles (EVs) in the Nordic region, where cold temperatures and adverse road conditions may shorten the range of the EV. The results show that the total EV range can be reduced with up to 76% in -23 °C conditions with cabin heating on as compared to +23 °C and no heating activated during normal usage.
Nordic Electric Avenue sought out to develop a Nordic electric avenue from Denmark up along the Swedish west coast further on to Oslo by adding EV charging stations and EV car pools along the way. New electric car pools have successfully been introduced in a range of locations throughout the avenue (e.g. Helsingborg, Gothenburg and Copenhagen) and several new pool stations are under development in Norway and Sweden. In addition, an IT roaming solution that enables car pool members to find and book vehicles in any of the three countries, was successfully developed and launched.
Alcohol [Spirits] and Ethers as Marine Fuel demonstrated that Nordic funding can be of invaluable importance in order for   companies to embark on a more sustainable path. Methanol as a marine fuel has successfully been tested in live conditions using an on-board conversion plant, and a retrofit solution was developed for conversion of a ship's main diesel engine for methanol laboratory testing. This can in the future allow ships to effectively run on methanol to reduce their carbon footprint and become less dependent on fossil fuels.
The programme's results point to a successful outcome with novel project ideas, new Nordic partnerships and combined research efforts. The Nordic countries are, though having a lot in common, different in many aspects. It is when combining these differences to achieve mutually beneficial results that the Nordic region can really become a leading region of new, innovative technology developments in sustainable transportation.