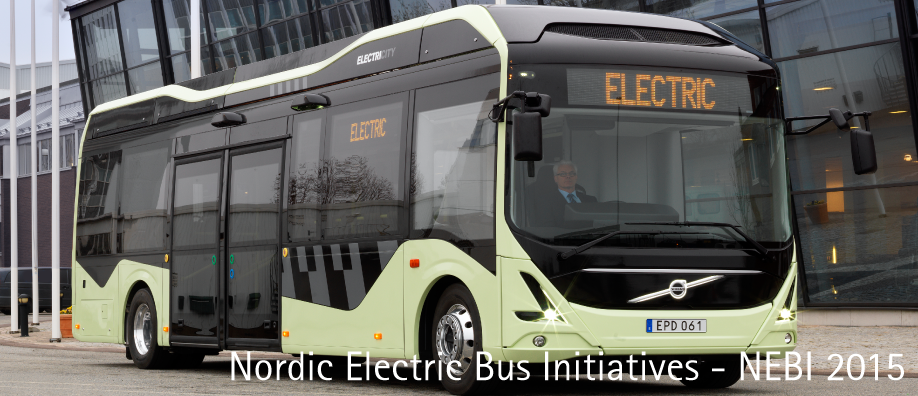 Nordic Electric Bus Initiatives – NEBI 2015
Nordic Energy Research, under the umbrella of the Nordic Energy Transport Platform together with Forum for Transport Innovation held a seminar on Nordic Electric Bus Initiatives at Lindholmen Science Park…
Nordic Energy Research, under the umbrella of the Nordic Energy Transport Platform together with Forum for Transport Innovation held a seminar on Nordic Electric Bus Initiatives at Lindholmen Science Park, Gothenburg, Sweden on September 1-2, 2015.
The purpose of the seminar was to bring together representatives from public transport authorities, traffic operators, manufacturers, private stakeholders and the academia for an informative best-practice sharing event on Nordic electric bus initiatives.
The aim of the event was:
Share best practices from cases where electric buses have been deployed.
Share general knowledge regarding the potential of electrification of buses in public transport.
Share expectations and address common issues/hurdles on how public transport authorities can navigate the technology shift.
Connect and build networks between Nordic representatives and stakeholders
100 attendees from public transport authorities, municipalities, public transport operators, vehicle producers, energy companies and academia participated.
The attendees could listen to 18 presentations showcasing several projects and planned expansion for and introduction of electrical buses in the Nordic countries. All presentations were recorded on video and presentations in pdf format. They can be accessed below.
The workshop had a lively debate on technical options related to types of charging infrastructure, on-board capacity of batteries, capital expenses vs. operation expenses, purchasing and tenders for electric buses. It became evident that many of these initiatives were not aware of each other and struggled with the same challenges in planning, technical options, tenders and negotiations with bus manufacturers and operators.
It was also evident that innovation and also serial production of electrical buses had taken place over the last 2 years and the drop in battery cost offers public transport authorities an opportunity to revisit Electric buses and Plug-in hybrid busses as a viable option for the future.
Outcome:
Participants expressed a strong interest in systematic Nordic knowledge sharing and securing standardisation of tenders and –whenever possible – joint procurement of electric buses and related infrastructure. The workshop organisers will explore how to meet these interests.
Programme
Introductory remarks, Svend Søyland presentation(pdf) and video
Showcases
Ongoing and Planned projects
How to enable Nordic Cooperation?
Moderated by: Svend Søyland (NER) and Magnus Henke (Trafikverket, Sweden) 
Site-visit: ElectriCity indoor bus stop
Day 2
Experiences with Charging Infrastructure  
Planning and Strategy
Policy frameworks and Business models 
Wrap-up – conclusions
Summary of group discussions and closing