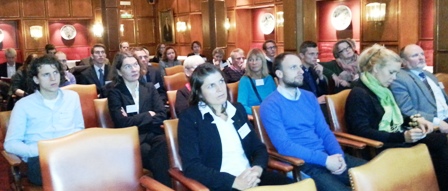 The Nordic Working Group for Sparsely Populated Areas presented the groups' results from 2010 to 2013
The Nordic Working Group for Sparsely Populated Areas (TBO) under The Nordic Council of Ministers presented the results of the groups work at their information seminar on the 31st of…
The Nordic Working Group for Sparsely Populated Areas (TBO) under The Nordic Council of Ministers presented the results of the groups work at their information seminar on the 31st of October in Oslo.
Christine Rud Wennerberg from Grontmij started the seminar by presenting the results from a Nordic study on pumped storage, finished in 2012. Based on the results from this study, TBO funded a study on wind power based pumped storage on Suduroy, Faroe Islands in 2012. Franziska Ludescher-Huber, Norconsult, stated that if this project with 10MW wind power combined with pumped storage is implemented, Suduroy would be supplied with 80% renewable energy.  We were lucky to have Finn Jakobsen from SEV, the Faroese power company, and Bjarti Thomsen from the Faroese Earth and Energy Directorate, to give a status on the energy situation for the Faroe Islands. The Faroe Islands have great ambitions to reduce their dependency on oil, and the goal is to change their energy mix from 60% oil and 40 % renewable today to 75% renewable and 25% oil in 2020.
Margrethe Sørensen form Greenland talked about the White book for more green energy in the blue sector of the West Nordic Countries. The White book looks at how the Nordic countries can support and initiate reduction of harmful emissions from fossil fuels in the shipping sector, an area which is especially important for sparsely populated areas which are highly dependent on shipping and fishing. Lastly, the Nordic Council of Ministers' information office in St.Petersburg along with other Russian stakeholders, presented renewable energy projects in Northwest Russia where one could see synergies with renewable energy projects in the Nordic countries.
Please, download the presentations from the seminar below:
Nordic study on pumped-storage, Christine Rud Wennerberg, Grontmij
Wind power based pumped storage, Franziska Ludescher-Huber, Norconsult
Status for the Faroe Islands and follow-up on the results from the report on Wind power based pumped storage, Finn Jakobsen, SEV
Wind Pumped Storgae by Bjarti Thomsen
Office in St.Petersburg Green energy in shipping, Margrethe Sørensen, consultant
NCM project Renewable energy in Northwest Russia, Andrey Anisimov, Nordic Council of Ministers Information
Economic aspects of small-scale renewable energy development in remote settlements of The Kola Peninsula, Valery Minin, Kola Research Centre, Russian Academy of Science, Apatity
Use of wind energy in the Murmansk region: challenges and possibilities, Danila Fevralev, Ltd. EkoMurman, Murmansk
Small-scale hydro power stations in the Republic of Karelia, Aleksey Vinogradov, JSC Nord-Hydro, St.Petersburg